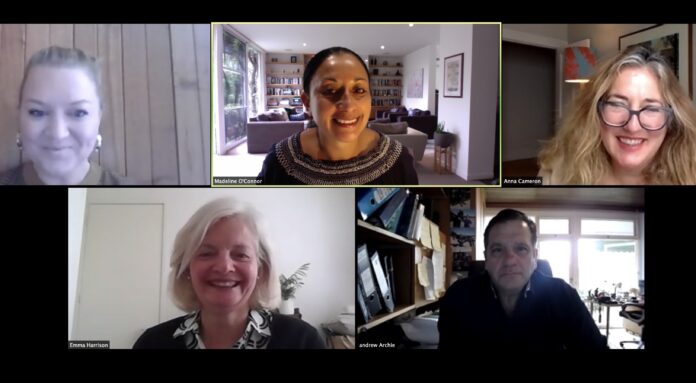 In keeping with the theme of 2020, Friends of Grammar had a year like no other!
The year started as expected with the usual flurry of activity. At Senior School, we held our welcome events, including a giant sausage sizzle, morning teas and cocktail parties. And then the pandemic hit, and our priority turned to supporting the community, requiring some creative thinking in the absence of traditional get-togethers. Fortunately, we live in an age of technology, and as we rapidly adjusted to life over Zoom and Webex, we found new ways to engage and connect virtually.
The Year 12 community was an area of focus. We distributed 'Care Packs' to students, Morning Tea Boxes to mark exams, and we supported the School with 'Bluestone Dreaming', a book paying tribute to the Class of 2020. The Year 9, 10 and 11 students were not forgotten as we celebrated their return to campus in Term IV with doughnuts and coffee carts for students and staff.
With Wadhurst welcoming another 100 new families, it was wonderful that we were able to successfully hold all Term I events to help with this transition. We remained in contact with our families once learning moved off-campus and virtual coffee mornings became the norm. We did not let the Father/ Son Trivia night go by the wayside, bringing a virtual Trivia Night to the community instead. During the final part of the school year our purpose was to slowly bring the Wadhurst community together again after many months apart.
FOG Grimwade House hit the ground running in Term I with a dizzying array of coffee carts, cocktail parties and the summer picnic, all opportunities to catch up for a laugh with old and new friends. Term II looked very different as we faced new challenges.
FOGG seized the opportunity to support and connect in any way possible, which included collaborating with the uniform shop to offer click & collect, coordinating teacher thank yous in inventive ways and year level Zoom Discos. We were grateful and humbled to witness the community rallying to support and catch up on a local level.
Friends of Grammar would like to thank our fabulous volunteers and wonderful families for their unfailing support throughout the year. While 2020 did not go as expected, we came through it together as a community.
Madeline O'Connor, Vanessa Leviny and Jo Harris, FOG Presidents 2020