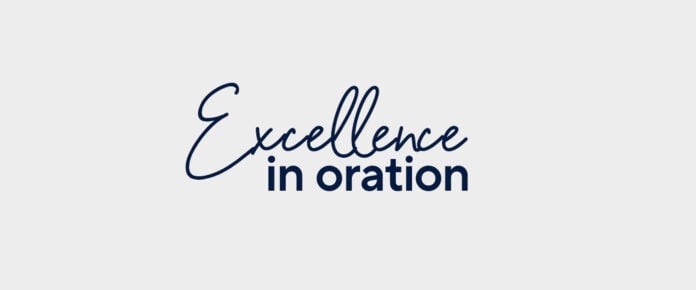 The Sir Kingsley Norris Oratory Competition is an annual public speaking event held in the Senior School at Melbourne Grammar School. Boys compete by composing and presenting a lengthy speech on a topic of their choosing.
The competition was established in 1977 on the basis of a financial contribution to the School by Sir (Frank) Kingsley Norris (OM 1910). Sir Kingsley wanted to support the improvement of the oratory skills of students. He mandated the use of the words 'different' and 'only' in each speech because he thought they were grammatically misused in society.
Typically, around 50 boys enter the heats, which are held during lunchtimes over two days in which the first minute of each speech is presented.
The final is usually around 18 students with the winner announced on the last day of the competition, as determined by a judging panel of around seven teachers. Judging criteria relates to content, flow, use of English, timing, presentation and impact.
The topics presented this year were wide and varied, representing the interests and ideas of a diverse group of students. Topics ranged from 'Tribalism, Truth, and Modern Politics' to 'You're ordinary. And that's fine.' to 'How Mario Kart illustrates the difference between equality and equity.'
Henry Carmichael, Year 12, was named the 2020 Sir Kingsley Norris Orator, and Year 9 student, Daniel Cash, was named 2020 Junior Sir Kingsley Norris Orator.
---
About Sir Kingsley Norris
Major General Sir Frank Kingsley Norris KBE, CB, DSO, ED (OM 1910) was a leader in Victoria's medical community and a distinguished military officer.
He was a keen sportsman while at Melbourne Grammar, and was a member of the Athletics, Lacrosse, First XI cricket and First XVIII football teams, captaining the football team in his final year.
He went on to study medicine at the University of Melbourne before taking on several significant roles in Victoria's medical community, including President of the Melbourne Medical Association and Chief Commander of the St John Ambulance Brigade.
Sir Kinsley served in WWI, WWII and the Korean War, eventually rising to the role of Director General of Medical Services and receiving numerous honours for his outstanding contribution to the armed forces over many years.
Sir Kingsley was honoured as a Knight Commander of the Most Excellent Order of the British Empire for his services to medicine in 1957.