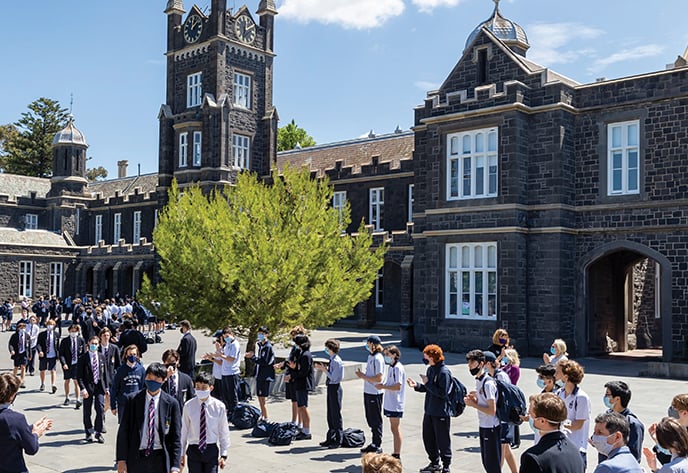 The final few days of Year 12 at Melbourne Grammar is a celebration of achievement, involvement and friendship.
At Melbourne Grammar, we farewell these students through traditional festivities such as the Valedictory Chapel Service, Ceremony and Dinner, recognising their contribution to the School and enabling them to share their emotions and exuberance with each other.
This year some aspects of Valedictory events were a little different, although the joy mingled with sadness on show each year was ever present.
Students still crossed the stage and received their certificates and prizes from the Headmaster, Mr Philip Grutzner, as part of the Valedictory Ceremony but this was done ahead of time and under COVID safe conditions. This aspect of the Ceremony was recorded, along with the speech from the keynote speaker, Dr Brendan Murphy (OM 1972), former Chief Medical Officer and now Secretary of the Commonwealth Department of Health. These elements formed part of an online event in which families were encouraged to enjoy together at home. One benefit of this approach was that a much wider group of family members were able to be part of the celebrations.
On their final day, the boys walked through a human 'Avenue of Honour' to the Old Melburnians War Memorial Hall where they were greeted by the sound of their favourite hymn The Lord of the Dance being played by our Director of Music, Mr Philip Carmody. Here, Mr Andrew Tulloch (OM 1986), President of the Old Melburnians, welcomed the students into the Old Melburnian community.