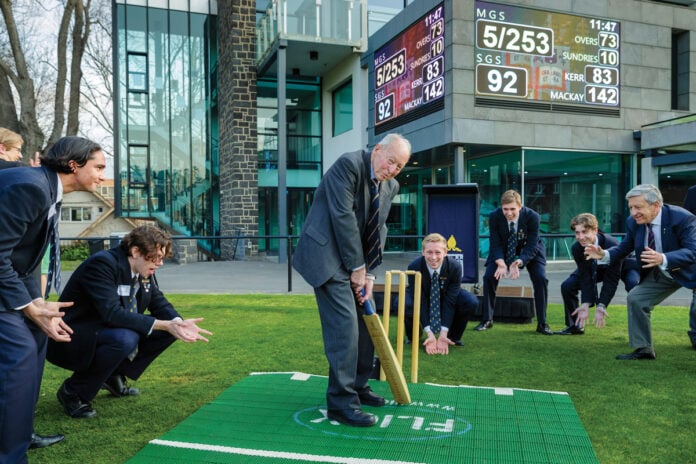 When Angus Mackay (OM 1952) was just nine years old, he hoped to be selected into the U11 cricket team at Wadhurst*. He wanted to follow the path of his father, grandfather and great-uncles. But too many 10-year olds were also seeking selection and Angus missed out.
Undaunted by this, and with the team not performing well, Angus approached the Sports master and asked him to consider giving him a chance. Two matches later Angus's name came up. On match day wickets fell steadily and, at seven wickets down, Angus strode onto the pitch and, ultimately, made the top score for the team on the day – 10 runs in a total of around 27!
So began Angus's cricketing career at Melbourne Grammar School which culminated, in his final year of schooling, as Captain of the First XI.
It is therefore fitting that, when thought was given to how best to recognise Angus for his generous and ongoing support of the School, it was determined that the new Melbourne Grammar School scoreboard would be named in his honour.
The Angus Mackay Scoreboard was 'unveiled' on Monday 10 September 2018. Overlooking the Main Oval, it is a state-of-the-art facility. Its features include dual high-resolution fibre optic LED 3.8m x 1.9m screens which are fully customisable and can show multiple items at the same time. It has a video playback system with the capacity to show slow motion replays. The scoreboard's software caters for cricket, AFL football, rugby, soccer and many other sports. And with a wireless operating panel, it can be updated from any position around the Oval.
At the Scoreboard opening, Chairman of Council Mr Michael Bartlett said it was a privilege to welcome Angus, members of his family and his Melbourne Grammar peers, including fellow members of 1952 First XI cricket team.
"We are gathered to honour Angus's individual sporting and general prowess, and also to honour his great spirit of philanthropy towards this School," he said. "On behalf of entire School community, I thank Angus Mackay for his transformational support of the Geoff Handbury Science and Technology Hub. By naming the new scoreboard in his honour, we are also recognising Angus's superior talent as a cricketer, and his outstanding leadership as 1952 Captain of Cricket, Captain of Tennis, Captain of Bromby House and School Prefect."
Angus is a Governor-level member of the Melbourne Grammar School Foundation Circle, having contributed more than $1m to the School. "I want to help current and future generations have the best education they can," says Angus. "I think it is important that a School like Melbourne Grammar offers modern teaching methods, has modern buildings and equipment, and that it is 'future ready'."
Angus was instrumental in the successful management of the historic Beehive department store in Bendigo for many years. With changes in the retail sector during the 1980s, the store was sold but, under Angus's leadership, the broader company continued and progressed, largely as an investment company. "Traits necessary in business include resilience, resourcefulness and patience,' says Angus. "For me, the early learnings of these came through cricket."
Speaking at the opening, 2018 Captain of Cricket, Sashin Garber invited Angus to toss the coin at the start of the first home game in the 2019 cricket season.
*Wadhurst was a Prep – Year 8 campus at that time.