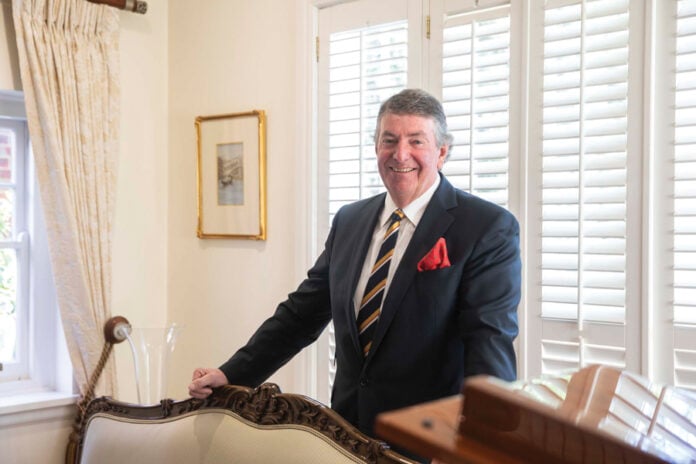 School Council Deputy Chairman, Lloyd Thomas steps away after 25 years of service to Melbourne Grammar School this year, leaving a legacy that highlights the impact volunteers can have on the School. According to Lloyd, involvement in the school is not a case of 'giving back' but, more importantly, 'putting in' and this is something everyone can do.
Lloyd was a member of School Council from 2008 until retiring from the role this year. He was also President of the Melbourne Grammar School Foundation Board from 2009 to 2017, having served on that Board for 19 years. In this capacity, he was instrumental in realising the Geoff Handbury Science and Technology Hub, arguably one of the finest buildings of its kind in Australia. Over the years, he has led countless fundraising efforts, both small and large, all with an intended agenda to grow the philanthropic culture of the School.
"Lloyd's service is singular," says Philip Solomon who took over from Lloyd as President of the Foundation Board in 2017. "In addition to being an exemplary leader, he offered his time and energy with extraordinary generosity. Raising money involves shoe leather, and he wore his out on behalf of the School."
Lloyd has an intergenerational connection to Melbourne Grammar, with three sons already graduated and two grandchildren currently attending the School. His wife, Debbie, has also been a strong supporter of the School, serving as President of Friends of Grammar in 1996 and, together with Lloyd, being a generous donor to the School. But Lloyd sees his role in supporting the School extending far beyond these family ties.
"The pursuit of excellence in education here in Australia requires the likes of Melbourne Grammar," Lloyd says. "If the School pursues and delivers excellence, this raises the bar for education more generally."
"I'm a believer that high quality education is important in developing a strong community," Lloyd adds.
"To achieve this, you need to be adaptive to change and take calculated risks to ensure that you don't have to settle for the ordinary."
This belief in the intrinsic value of education has been a key motivator for Lloyd's leadership, particularly when it came to developing the four fundraising pillars that shape our current philanthropic priorities. "You can't say you're a high-quality school unless you deliver quality across all areas," Lloyd explains.
"The Foundation Board and School Council was committed to making sure we could support buildings and grounds, continue the success of the bequests program, create an Indigenous bursary program that would lead to great outcomes and create scholarships that would increase diversity among our student population – all of which will always be important in underpinning a Melbourne Grammar education."
To those considering making their own contribution to the School, either financially or through their time, Lloyd says the rewards are both immediate and long-term. "What excites most people is the ability to see progress – to invest in something and see that their effort is making a difference," he says. "Melbourne Grammar continues to make impressive progress and, importantly, still has significant work it can do to contribute to Australian education."
Lloyd and Debbie are both members of the Witherby Tower Society, a group for those who have indicated they will leave a bequest to the School.
---
You can read more about Lloyd's contribution to Melbourne Grammar School in the 'From the School Council' article here.