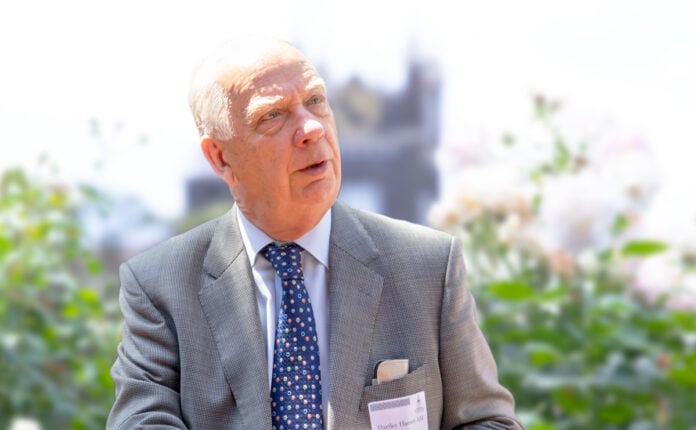 As a School, we see our sense of community as central to our values. For one Old Melburnian, this emphasis on community was particularly important during his time at Melbourne Grammar, shaping his experience as a student and his career as one of our foremost jurists.
"Contribution to the community was a constant theme that you heard from the Headmaster and the School as a whole," says retired Supreme Court judge, The Hon Hartley Hansen QC AM (OM 1960). "There was constant reference being made to people who had attended the School and their contributions, in whatever form that might have taken. That informed my world view."
A member of the Victorian Bar since 1967, Justice Hansen was appointed Queen's Counsel in 1984. A judge on the Supreme Court since 1994, where he sat in all jurisdictions, Justice Hansen was appointed to the Court of Appeal in 2010 until his retirement in 2012, at which time he became a Reserve Judge. Justice Hansen also played a key role in the professional development of many jurists having held numerous Committee and Program Chairs at the Judicial College of Victoria.
Responsibilities at the Victorian Bar include Senior Vice-Chair, Honorary Secretary, and various Committee Chairs. Justice Hansen's career also includes roles as a member of the Human Research Ethics Committee at Swinburne University, and Chair of the Social Security Appeals Tribunal. He is the current Chair of the Melbourne Health Clinical Ethics Committee, and of the Victorian Law Foundation.
This year, Justice Hansen was awarded an Order of Australia 'For significant service to the law, and to professional associations'.
"I'm very fortunate and privileged to have found myself working in the law and enjoying it to such a degree," Justice Hansen says. "I think I've devoted my life to it beyond what's expected, and part of that was my sense of wanting to participate—to be part of and contribute to something beyond myself."
Justice Hansen has remained connected to our community throughout his life. He has served as a member of The Old Melburnians Council and seen two sons, two grandchildren and other relatives attend the School. He has particularly fond memories of Sir Brian Hone, Headmaster during his time at Melbourne Grammar.
"I feel very lucky to have been at Melbourne Grammar when that wonderful man was Headmaster," Justice Hansen says. "I felt that he knew everything about everyone at the School. He consistently reminded us of our role in the wider world—our sense of responsibility and ethics."
Perhaps surprisingly for someone with such an impressive legal background, none of Justice Hansen's family worked in areas related to the law. "I came from a family of builders, but I had different interests," he explains. "I wasn't really a maths or science person." Justice Hansen's path toward his career became clear as his interest in History and English deepened during his later school years. "School became more enjoyable for me when I could focus on those subjects—that was my bent, really," he says.
In 2020, Justice Hansen made the decision to join the Witherby Tower Society, which honours those who choose to remember Melbourne Grammar in their Will. "I felt I had a debt to the School, if I can put it like that, which can't really be repaid," Justice Hansen says of this decision.
Despite his many contributions as judge, committee member and Chair across so many areas of the law, Justice Hansen's answer to what he would like to be remembered for is simple: "The short answer to that is, a long marriage and a good family."