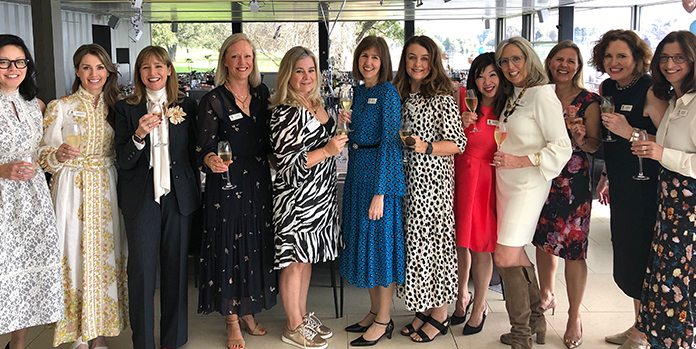 After a very difficult year in 2020, Friends of Grammar has entered this year with a new momentum.
The freedoms we have experienced this year have allowed us to focus on creating a sense of belonging for every member of our School community. It is well known that we cannot separate the importance of a sense of belonging from our physical and mental health. Our common purpose across the three FOG committees has been to bring the community together and improve our collective resilience by returning to the sense of fun we missed so much during lockdown.
We began with a cocktail party frenzy in Term I, with 22 events taking place across the Grimwade House, Wadhurst and Senior School campuses.
As expected, there was an insatiable desire to 'gather together' in record numbers. In addition, Grimwade House hosted their annual kick off coffee catch‑up along with a number of new parent, class, year level and community wide events. At the South Yarra campus, we hosted a Welcome Morning Tea for new parents, Year Level and House Reps organised informal catch-ups and coffee mornings, and Wadhurst ran its Tuckerbox Lunch, raising funds for the broader community.
Parent Rep Meetings invited parents to participate in the development of collective knowledge. Speakers included School Captains and Vice-Captains who discussed their progress through the school, as well as Andrew Baylis, Director of Learning and Research, who spoke about learning and memory.
Tickets to the Senior School, Wadhurst and Grimwade House lunches, which are a feature of the social calendar, were highly sought after. The Senior School lunch in May was a beautiful day of friendship and festivity, and one which many did not want to end. Likewise, the Wadhurst lunch planned for July is a chance for Year 7 and 8 parents to come together and enjoy each other's company. The Grimwade House lunch is also set to be another fabulous function at Carousel in August.
Finally, the Flack Park Kiosk re-opened to the resounding joy of parents who otherwise spent a cold Saturday morning empty-handed watching sport. Cheering is so much more pleasurable with a hot coffee and a delicious bacon and egg roll in hand.
Jane Poole, Daniella Rocco, Tori King
FOG Presidents 2021