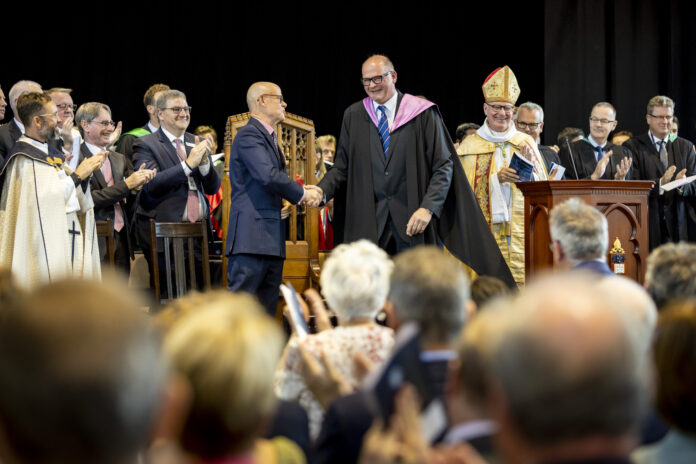 The commissioning of a Headmaster is a solemn yet joyful occasion, reminding us of the central role of spirituality in the life of our School. The February commissioning of Mr Philip Grutzner (OM 1981) as our 15th Headmaster was no exception.
"We could talk about this service as an 'induction', or as a recognition of the role of Headmaster by the community, but there's much more to it than that," says Senior Chaplain, Rev'd Hans Christiansen. "A commissioning signifies being called by God to engage in a vocation."
"When we talk about a vocation we must remember the Latin roots of this word – vocare – 'to call'," Rev'd Christiansen adds. "A Headmaster is called to do what we see as sacred and holy work. He is accountable not just to our School community as a whole, but also to something larger."
Held in the Old Melburnians War Memorial Hall, the commissioning began with an Acknowledgement of Country and a dance performed by Indigenous students. Mr Grutzner was then presented to the Most Reverend Dr Philip Freier, Archbishop of Melbourne, Primate of the Anglican Church of Australia and President of the School Council. In his speech, the Archbishop made special reference to the 213 Old Melburnians who gave their lives in war and to whom the Hall is dedicated, asking an important question: "What will your legacy be?"
"What will you honour in the way you spend your life and make your decisions?" Archbishop Freier asked those assembled. "The motto of our School, ora et labora, propels us toward a future in which we intend to be contributors to the world in which we live. So let us 'pray and work' with Mr Grutzner to make the 15th Headmastership both fresh for our times and authentic to the founding vision of our school?"
When it came time for Mr Grutzner to speak, he shared memories of the people who taught him during his own time at Melbourne Grammar – some of whom were present at the commissioning – remembering how they shaped his life.
"Thank you to those who have taken up teaching – such an inspirational calling," Mr Grutzner said. "You teach knowledge, but far more importantly, you have the capacity to make each student feel valued."
"We know we are lucky to learn and work in a school like Melbourne Grammar, and we must accept this privilege with a strong sense of responsibility," Mr Grutzner added. "A responsibility not to be arrogant or complacent, but to make the most of the opportunities we have. We have a responsibility to be grateful."
Reflecting on the significance of the commissioning, Mr Grutzner highlighted the role of spirituality across the School. "It's important to insist on these moments of thoughtful reflection," he said. "As an event like this shows, our School is a spiritual place."