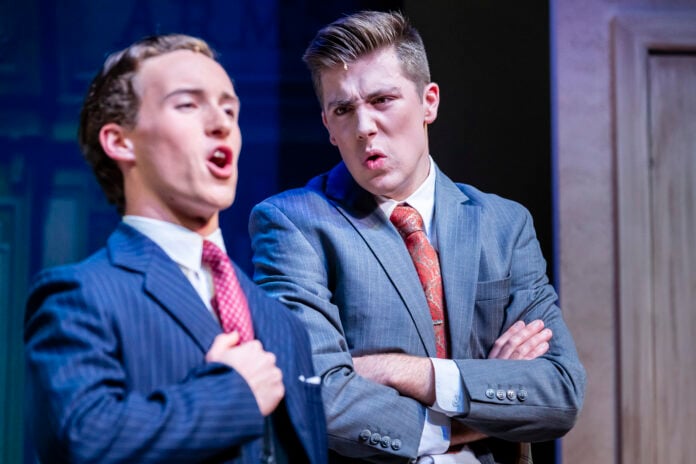 When 2019 Year 12 students, Dylan Glatz and Anson Kearney, commenced as boarders at Melbourne Grammar in Year 9, they were seeking to extend their academic and cocurricular options. Both had an interest in the performing arts, and subsequently pursued roles in School productions with zeal, which complemented their academic studies in Drama. So, it is particularly pleasing that their hard work and dedication to the craft have paid off.
Dylan and Anson were two of only 25 VCE Unit 3/4 Drama students across Victoria selected to perform in Top Class 2020. Top Class is part of the annual VCE Season of Excellence. It comprises a series of concerts showcasing the very best VCE talent across the fields of dance, drama, theatre studies and music. Drama students are invited to audition for Top Class based on their performance examination score.
Head of Drama and Boarding Tutor, Mr Mark Brady is delighted with Dylan and Anson's success. "The 2019 VCE Unit 3/4 class was a very talented group of students, evidenced by the perfect study score of 50 achieved by Jasper Harrington, half of the cohort gaining scores of 40+, and Dylan and Anson's selection into Top Class," says Mr Brady.
"The selection into the Top Class is a testament to Anson and Dylan's talent, commitment and focus throughout their time here at Melbourne Grammar and we are all very proud of their achievement."
For Dylan, working with Mr Brady was an important component of his success. "I really can't speak highly enough of our Drama teacher, Mr Brady," says Dylan. "He seriously got the best out of everybody and we were really lucky to work alongside him throughout Year 11 and 12."
This year, Dylan is studying a Bachelor of Arts at the University of Melbourne majoring in English and Theatre Studies with a longer-term interest in Law. Anson is enrolled in a Bachelor of Science at Monash University. Both students intend on continuing to pursue their interest in the performing arts alongside their studies.
Unfortunately, this year, the Top Class concerts did not proceed at the scheduled time due to the COVID-19 pandemic.