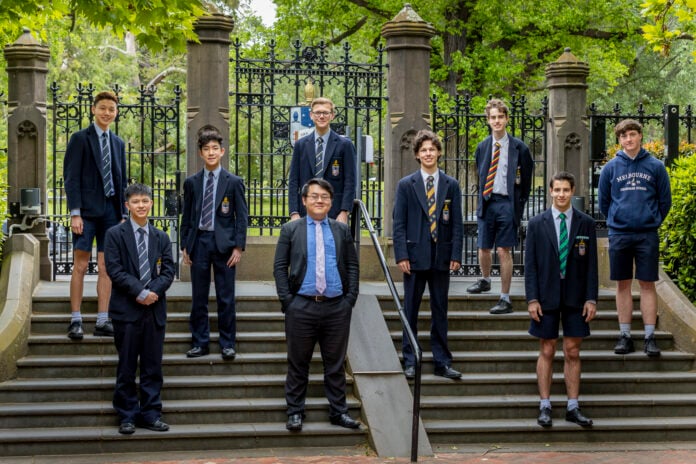 Melbourne Grammar School has won the A Grade (Year 12) level of the Debating Association of Victoria (DAV) Schools Competition three years in a row. This is the first time a school has accomplished this feat in the 64-year history of the event.
By simultaneously winning the B Grade (Year 11) level this year, our School is also the first to record State championships across two levels in the same year three times, having also achieved this in 2016 and 2019.
2020's victorious teams were:
A Grade (Year 12): Henry Garnett, Rowan Kilpatrick, Will Naughton
B Grade (Year 11): Kelvin Cao, Angus Cha, Albert Du, Will Flintoft
Three students – 2020 Captain of Debating Luc Cazenave (Year 12), Felix Archibald (Year 11) and Felix de Silva Clamp (Year 10) – were each awarded 'Swannies' during the competition. This recognises the speaker in each region with the highest average speaker score across their year level.
Adding to this list of achievements, Melbourne Grammar also won the 2020 DAV Senior British Parliamentary Debating Competition and the 2020 DAV Monash Asian Studies Debating Championships, at which Year 12 student Patrick Irwin was named Best Speaker.
Finally, Luc Cazenave was also chosen to be one of the four Victorian representative speakers in the Victorian State Debating Team for the second year in a row. In recognition of his outstanding contribution to, and success in, debating, Luc was awarded Melbourne Grammar School's most prestigious student honour: a Sir Brian Hone Medal.
Reflecting on this year's success, Teacher in Charge of Debating Mr Vincent Chiang says: "I'm extraordinarily proud of the entire 2020 School debating team. I'm impressed by their dedication, talent, and the extent to which they have risen above the challenges of this year. It is really a testament to their character, resilience and intellectual curiosity."
"Everything really came together this year," says Luc. "The Year 12 group, in particular, has benefitted from the legacy of Mr Sam Greenland, former Teacher in Charge of Debating. We have also been inspired by recent students, Jack and Ben Solomon, both world class debaters. This year, Mr Chiang has done a really amazing job of helping us through in quite a difficult time."
According to Mr Chiang, the strength and depth of the debating team can also be attributed to Melbourne Grammar's educational pedagogy. "We are a school that emphasises knowledge, truth, understanding and critical thinking as vital to the educational experience," he says. "We offer a range of intellectually focused disciplines and ask students to explore ideas in a variety of ways."
Luc concurs, adding: "Other school teams seem to frequently offer predictable cases and present ideas they have thought about before, while our teams seem more able to think in new ways and successfully grapple with unfamiliar ideas."