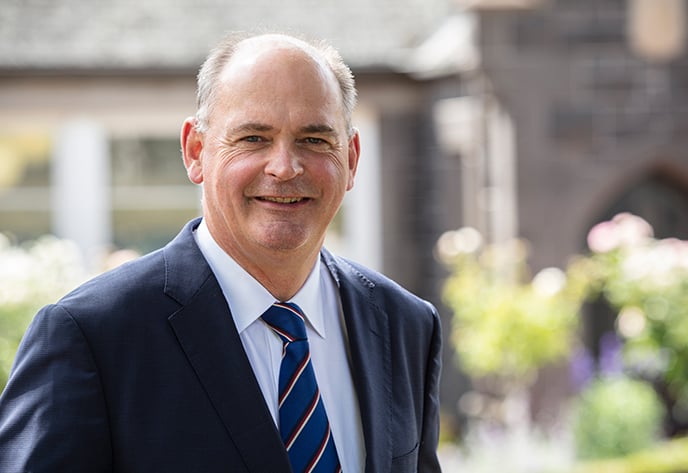 I am delighted to return to Melbourne Grammar School as the 15th Headmaster. I very much enjoyed my time at the School as a student. Commencing in Year 7, I attended Grimwade House when it was still a Prep – Year 8 boys only campus and moved to Senior School in Year 9.
If you can forgive me for a moment of personal reflection, I often find myself gently smiling when I spy the bluestone for the first time in the morning. Similarly, I feel a buzz of pleasure each time I visit Grimwade House. I also find joy when I see our students in action, whether it be in class, attending Chapel, leading assembly, on the sporting field, playing music or volunteering for the care of others.
I am so proud to be here and am fully committed to respecting the traditions and values of a School that has given me so much.
However, the COVID-19 situation is challenging. We are living in unprecedented times where uncertainty and, for some, fear is a daily experience. After careful deliberation of the COVID-19 situation, the School decided to deliver student learning through an off-campus model from the final week of Term I. At the time of writing this article, off-campus learning has continued into Term II. The situation is fluid, but we know our staff are working incredibly hard to support each student's learning and welfare and to provide ways for us to stay connected with each other and the School.
We only had a few weeks to plan for off-campus learning. I am pleased with how well so many teachers and students adapted to the new approach. I have seen resilience, flexibility and kindness in action every day, and this has made me most optimistic that we will collectively rise above the challenges before us.
Will the educational experience of our students be as rich in an off-campus model? Probably not. What I can tell you is this. Melbourne Grammar is fortunate to have a wonderful group of teachers who have a deep knowledge of their discipline, are very adept at generating interest and curiosity in a topic, and who truly understand how to get the best from their students. This will not change. The format in which they might interact with their class might be different, but I am confident the passion for teaching displayed by our staff will mean that age and stage appropriate learning will continue for each student.
Of course, attending school is more than just lessons. There is a social element to everyone's day, whether playing together at recess, catching up with friends over lunch or simply having others around you who share your perspective on life. And education doesn't occur just in the classroom. It's the wide range of co-curricular activities offered at Melbourne Grammar School that make the student experience so special here. We have been considering these issues, should we move to off-campus learning for a longer period, we will do what we can to address these matters. We continue to have faith in the strength of our school community, remain hopeful and look forward to when our students and staff return to each campus and our full school program resumes.
You can find further detail about the School's response to the COVID-19 issue on a dedicated website we have established – the COVID-19 Resource Hub.
Finally, could I thank everyone who has played a role in making me feel so welcome at Melbourne Grammar School. I have very much enjoyed meeting students, staff, parents and other community members. The 'sense of community' that permeates our School has been very visible to me and I have seen firsthand how it truly does define the School.
I look forward to working with you all during the years ahead.
Philip Grutzner
Headmaster