Philip Hopkins (OM 1970) reflects on how his fellow boarder and team mate, Peter Kanoa, has influenced Australia's Indigenous agenda.
During last year's highly successful March 50-year reunion of the 1969 cohort, amidst the chatter, one incessant question was also heard: "Where's Kanoa?" That was fellow student Peter Kanoa (OM 1969), an Indigenous Australian from Heywood in south-west Victoria who spent seven years at Melbourne Grammar School.
Tragically, no one knew that Peter had died a few months before in September 2018 from kidney failure, aged 66.
Peter, believed to be the School's first Indigenous student, was a forerunner of Melbourne Grammar's Indigenous program. Universally popular, he was a superb athlete – unbeatable as a sprinter in his years at the School and a dynamic, charismatic footballer.
Intelligent, with a winning smile, he was "reserved but yet engaging", as his Perry House boarding colleague and House Captain, Mark Jalland (OM 1969), remembers him.
"He never lost his temper or was tiresome – a no-no in the hot house atmosphere that can exist in a boarding house," said Mark. "He was an unassuming trailblazer at a time of the awakening of indigenous rights in Australia."
Peter, who was born at Mooroopna in northern Victoria on 24 January 1952, was sponsored at the School by John Bryson (OM 1954). He had been recommended by his Heywood school in a process overseen by the then Aboriginal Welfare Board. Melbourne Grammar undertook strict due diligence to ensure that the move to Melbourne was in Peter's best interest.
Peter entered Grimwade House in 1964 in Grade 6, before moving to the Senior School in 1966. His athletic prowess was soon obvious at House , where he played in the centre in football and was Captain of Athletics.
This continued at the Senior School, where he was in the Athletics team from 1966-69, including being on the Committee in 1969. A powerful sprinter, a highlight was Peter charging down the backstraight at the Combined Sports in 1966 carrying the baton that led to a Melbourne Grammar win in the Under 15 relay and a then school record of 46.6 seconds.
Then there was his football ability. "His trunk was built like a thick gum tree," said Mark Jalland. With his speed and strength, and a quick flick of his hips, opponents would go flying – hence his affectionate nickname, "Rocks", which he would retain for his entire school career.
Peter was promoted from the Under 16s to the First XVIII, where he played half-back flank, wing and centre. His coach Alby Twigg remembers him for his "speed and skill". "Add to that his extraordinary balance and a seeming detachment from the melees and mauls that bedevil Australian Rules football," said Alby.
"He found a way through the messiest scrum without seeming to check his stride, then skilfully moved the ball on to a teammate. He must have been very frustrating to play against because he made the impossible look routine."
A dramatic event was a game against Caulfield Grammar in 1969 at Caulfield. An opponent racially sledged Peter – and Mark Jalland saw red. Back went the arm – and smash. It was on – a major brawl erupted on the ground between the two teams.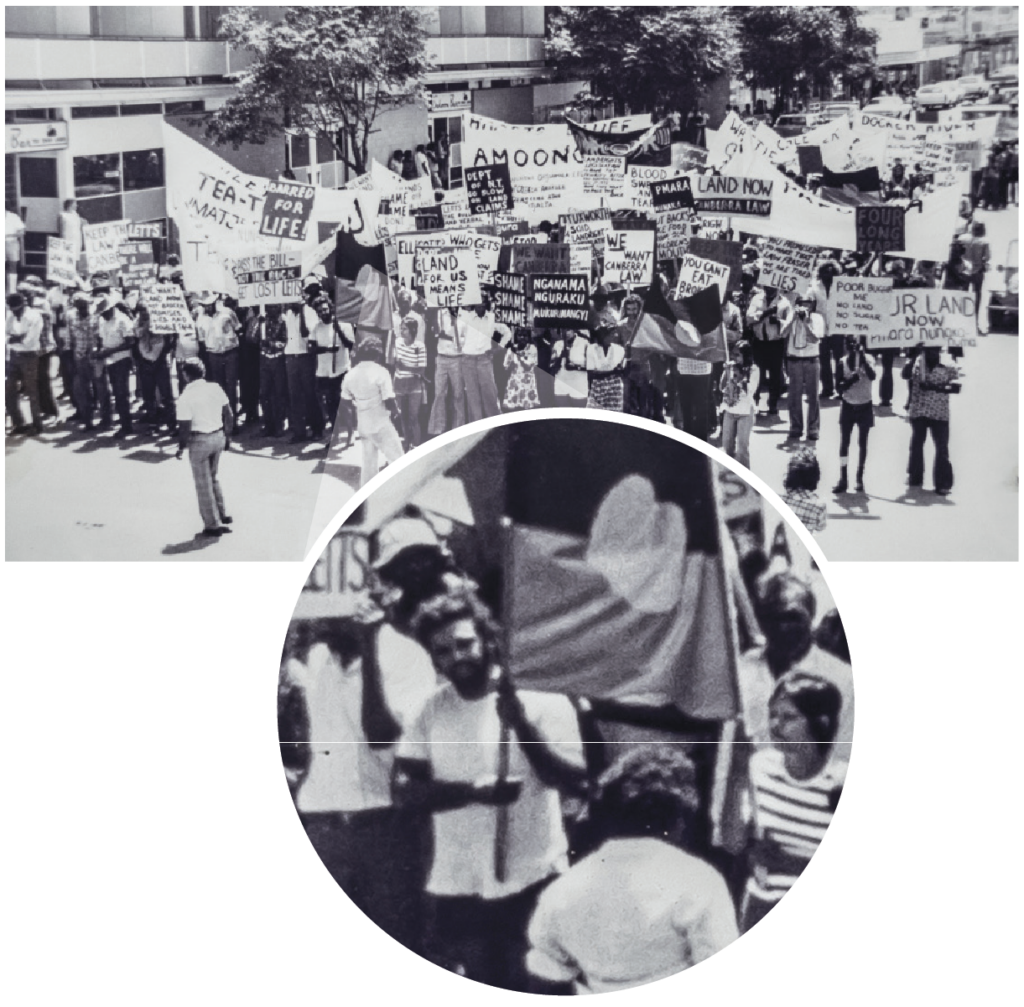 "That fateful match was the only time I ever heard any racism directed towards 'Rocks', which made it all the more shocking," said Mark, quipping that the culprit was lucky that 'Rocks' did not get to him first. "That is only supposition, for I never saw 'Rocks' hit anyone on or off the football field."
Subsequently, the Headmaster, Sir Brian Hone, insisted that Mark apologise to the Caulfield Grammar Headmaster; such incidents were not to be solved by violence.
Having completed Leaving, Peter left school after 1969, and thus began his multi-directional life as social activist, community leader, musician, bicycle and motorbike fan, family man and patriarch, and Indigenous elder.
An early bid to play for Collingwood went nowhere. He was told to cut his hair, but he refused, not wanting to cut his new 'Afro' hairstyle.
An encounter with Jim Berg from the Aboriginal Legal Service led Peter to a field officer's job with the service in Fitzroy in the early 1970s – and Peter's life course was set.
Mr Berg and then lawyer, The Honourable David Parsons (OM 1968), urged him to take an administrative position with the Central Australian Aboriginal Legal Service in Alice Springs in 1975.
For the young urban activist, it was a new experience, learning about his people's "spiritual belonging to the land, not OWNING the land", he told radio broadcaster, Jon Faine, in an ABC interview in 1993. He attended bush courts which were up to six hours flight from Alice Springs. "You felt you were in a different world," he said.
It was also a time for the growing land rights movement – and on the side, with David Parsons, winning a footy premiership with their team, the Pioneers!
Further jobs in Indigenous affairs came after his return to Melbourne. He was involved in setting up the Victorian Aboriginal Child Care Agency (VACCA) in the early 1980s, becoming program director/chief executive from 1987 to 1992.
In 1991, Peter took study leave for four years to study law at the University of Melbourne, then returned to VACCA from 1996-97 as CEO, setting up youth homeless and crisis centres in Melbourne and country Victoria. "He was tireless in ensuring that children remained connected to their family, community and culture," said his nephew Tim Kanoa in his eulogy at Peter's funeral. "There are many people in the community who have told the family, that if it were not for Uncle Peter, they would not know who they are."
He was the boss. During one robust and fierce work discussion around a table, Peter was not contributing, just sitting and listening in. "Now after 10 minutes, Uncle Peter leaned forward, everyone stopped to listen", said Tim. "He said, 'Now we are going to do this, this and this', and looked at me straight in the eye, eyebrows raised, and said, "Ain't that right neph?' Tim agreed!
Peter loved music, "plucking that bass, strumming that guitar" and singing with "that big powerful voice", Tim said. He wrote songs, played in bands, did solo stints, played bass for a short time with the Warumpi Band, appearing on TV; and played in a support band for Prince at the Sydney Cricket Ground.
Music was also politics. Peter was part of The Black Arm Band, formed in 2006, which joined with the Melbourne Symphony Orchestra in a show called Hidden Republic. It also toured as part of the Cultural Olympiad connected with the 2010 Winter Olympic Games in Vancouver, which included a meeting with the Four Chiefs of the Four Nations of Vancouver.
Reflecting on Peter's music career, "the best performances were those sitting around with family with Uncle Peter and his councils and nephews playing (Bob Marley's) 'No Women No Cry'," Tim said.
A '69er', Peter was smitten with a famous film of that year, 'Easy Rider'; all he wanted to do after seeing that was get on a Harley Davidson motor bike and ride up the centre of Australia. Work and family made that impossible, but in 2012, he got his motorbike licence, bought a 1995 Heritage Softtail affectionately known as 'da Big One' – and achieved his lifelong dream to ride up the middle of Australia.
His love of movies never left him. "Almost everyone agrees, it didn't matter whose house it was, Uncle Peter would also gain control of the TV remote," said Tim.
Tragedy also struck; Peter lost his first wife Linda in a car accident, but two subsequent marriages produced a total of five children, then ten grandchildren and even two great grandchildren. "He was always big on family, making sure his children knew who they were, what their cultural identity is," said Tim.
In the late 1990s, Peter, 'a Gunditjmara and Bunitj Man', formally changed his surname to his original family name Rotumah. Peter's grandfather Etike was from Rotuma, one of Fiji's islands. Etike came to Australia, adding an 'H' to the name to anglicise it, and married a local. He gave his son, Peter (Peter's father) his traditional Rotuman name 'Kanoa', which means the 'Free One' or 'Free Spirit'.
Towards the end of his life, Peter became unwell. "However, he stayed absolutely true to himself and his values," said Tim. "He never complained, he took it as it came, 'One day at a time', he said. He was humble, he was content, he knew that he had achieved all he set out to do."
Peter, whose Indigenous name was Peter Wallabulla Amunba Amut Rotumah, was buried at the Weerona Cemetery, Greenvale on 11 October 2018. Hundreds of people attended the funeral. "He was tireless and strong in supporting Aboriginal families and children," said VACCA chief executive Muriel Bamblett. "Peter will be remembered for his joyous and generous attitude to life."
This is an extended version of the article printed in the December 2020 edition of the Grammar News magazine.
---
About Philip Hopkins
Philip Hopkins (OM 1970) was a contemporary of Peter Kanoa at Melbourne Grammar School, playing with him in the Athletics and Football teams which he captained in 1970. Both boarders at the School, Peter was in Perry House and Philip was ultimately Captain of School House.
Philip has been a journalist for 40 years, having worked in his native Gippsland and Latrobe Valley before joining The Age, where he worked for 25 years, serving on the Foreign Desk and in the Business section.
He has degrees in German, Politics and Russian and a Master of Arts in European Studies from Monash University.