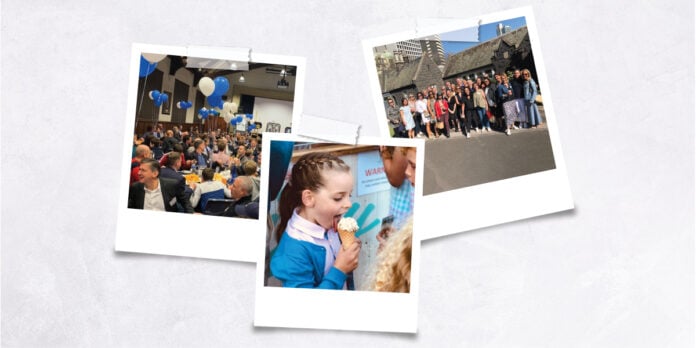 The Friends of Grammar Committees across Grimwade House, Wadhurst and Senior School have spent another busy year organising and supporting events to connect the Melbourne Grammar School community.
The year began with year level Cocktail Parties across the School which, for some families, marked the start of the MGS journey and the end of an exciting MGS journey for others.
An estimated 600 people attended the Grimwade Summer Picnic in March. The Grimwade Oval was a sea of picnic blankets, laughter and smiles all around. The children were entertained by a roving magician and many fun rides. FOGG and the Class Representatives also celebrated our Year 6 students and families by offering a Celebration Dinner and Graduation Breakfast at the end of the year.
FOG Wadhurst held another successful Father/Special Friend and Sons Trivia Night with over 250 guests. We also supported the Wadhurst boys for Make a Wish Foundation through Crop a Kid. Important support was also provided for our Boarding students enabling boys living away from home to have more contact with day boys and their families in a social setting.
Our annual farewell to Year 12 parents with a 'champagne and chicken sandwich' morning tea was well received with over 120 attendees.
All campuses participated in this year's Grammar Lunch which was a resounding success and a sell out at 550 guests. It was wonderful to again bring the whole community together for this event.
Many other activities have been ongoing throughout the year across the School including Father's and Mother's Day stalls, cake stalls at Athletics Carnivals, Community speakers, Tuckerbox lunches and Sausage Sizzles, coffee carts, as well as many morning teas and drinks nights. Hundreds of oranges were provided for the Grimwade House Cross Country run, plus a first aid course was run to keep parents up to date.
This year FOG Senior School introduced the Senior School and Past Parents Lunch which was held in August. Over 230 attendees (including 100 past parents) enjoyed a relaxed day with friends in the magnificent Myer Mural Hall.
Other new initiatives involved events for our International community. All year levels also had the opportunity to enjoy the various exhibitions held in the School Archives Gallery, showcasing the rich history of Melbourne Grammar School.
A team of volunteers kept our Swap Shops humming all year offering recycling of school uniforms, including a planned FOG-funded renovation to the Grimwade Swap Shop. FOG Senior School volunteers have done an amazing job of staffing the Kiosk at Edwin Flack Park offering hot drinks and a welcome smile during the many APS Saturdays. FOG Senior School also managed the weekly Values in Action roster at Sacred Heart Mission and programmes with Fred Hollows, Purple House and other programmes with great success.
FOG Senior School has provided a great service to the community of recycling of textbooks by running the Senior School Second-Hand Book Sale in early December.
A special mention and thank you must be made for all the efforts of our volunteers – we could not achieve such success without the Community's support.
We look forward to handing over to the incoming 2020 team of Madeline O'Connor (SS), Vanessa Leviny (W) and Jo Harris (G) and their respective committees, who will continue to strive for continuous improvement for our community.
On behalf of Friends of Grammar, we would like to thank the entire MGS FOG community – our parents, brilliant staff and students. We have thoroughly enjoyed working with you all, helping to strengthen our wonderful School community. Wishing you all happy and safe holidays and a terrific 2020.

Stephanie Wilson, Kylie Glenane and Kate Henderson
Friends of Grammar Presidents 2019