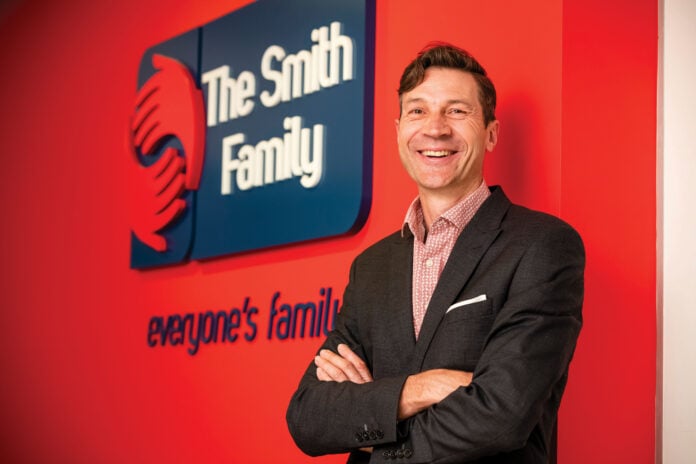 As General Manager of The Smith Family in Victoria, Anton Leschen (OM 1983) has a first-hand understanding of the way educational opportunities impact young people's lives. "The Smith Family knows there is a 20 per cent difference in VCE results between advantaged and disadvantaged Victorians," he explains. "This is just one educational factor that can set up a lifetime of difference."
In order to combat this cycle of disadvantage, The Smith Family has a national education-focused strategy delivered through a scholarship programme and other initiatives. The organisation partners with people and places across Australia, including 13 Victorian communities. In addition to overseeing engagement with families 'at risk', Anton also liaises with corporate, philanthropic, educational and government organisations, as well as individuals, who support their programmes.
Discussing the values that inform his work with The Smith Family, Anton points back to lessons learned during his time at Grimwade House. "My Chaplain at Grimwade was Father Kenneth Letts (OM 1960), who said, 'Whenever you point at somebody, there are three fingers pointing back at yourself, so don't be so quick to judge.' I think the faith-based values that were so strong at Melbourne Grammar had an impact," he says. "Father Letts also emphasised that the motto of our school is prayer, then work. It's not about making a fortune and then thinking about good values. It's about practicing those values first, then going to work."
"We often think of volunteering as an act of generosity which involves 100 per cent giving to the other party, but it's actually a privilege to have the time and capacity to find a volunteering opportunity, and to go and do it," says Anton.
"I very much encourage people to celebrate the advantages they have had that helped them prosper in life by using them to help others."
The Learning for Life programme is one element within The Smith Family's agenda, involving activities such as student-to- student reading, homework help and mentoring programmes. According to Anton, this kind of educational support impacts everything, from literacy and numeracy to the way disadvantaged students see their futures.
Around 50 Melbourne Grammar students are involved in supporting the Learning for Life programme each year, often providing homework help to children who may not be able to access that assistance at home and, incidentally, operating as informal mentors.
"The impact of the mentoring provided by Melbourne Grammar students is striking," Anton explains. "If you're raised in a community where few people finish school, you miss out on the benefit of social and professional networks, along with the knowledge of those who've experienced a full and complete education. As a colleague of mine says, 'If you can't see it, you can't dream it.'"
"I appreciate the purposeful action the School takes to get students out of the Bluestone, into the community, and to welcome people into the School – especially its work in the education of Indigenous students," Anton adds. "Today's Melbourne Grammar is a diverse, generous community, and that's only becoming more the case."
"I'm pleased to continue my association with the School by becoming a member of The Old Melburnians Council," he says.