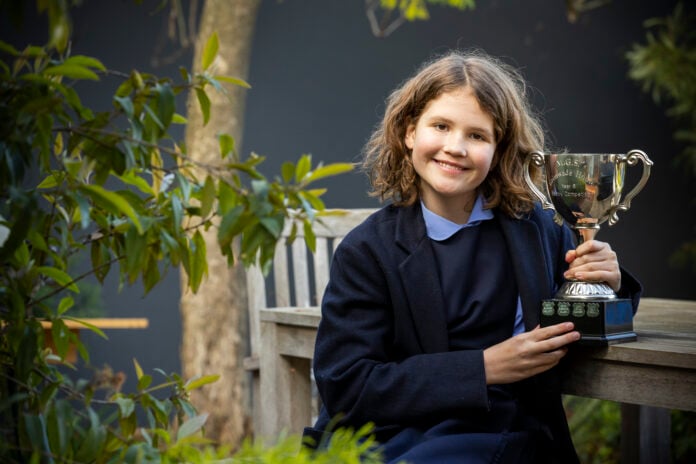 Do you remember the first time you stood up and spoke in front of a large, unfamiliar audience? How did you feel? Nervous, daunted or, perhaps, invigorated?
Students regularly speak in front of their classmates at all year levels at Grimwade House. However, for many, the annual Year 5 Poetry competition is their first formal experience of public speaking. All Year 5 students must participate, reciting a lengthy poem to a sizeable forum which, for the final, included students, staff, parents and a four-person judging panel.
The competition builds on a unit of study undertaken during Term III which focuses on poetry. "We explore a different poet and poetry style each week. This means that students are exposed to a wide variety of genres which, ideally, ignites their passion for this type of literature," explains Ms Jo Clancy, Year 5 Coordinator.
"I believe poetry builds essential vocabulary, fluency, expression and writing skills for students. I hope this study of poetry will mean they have a life‑long love affair with it."

Ms Jo Clancy, Year 5 Coordinator
Students may choose to recite either an original or known poem for the competition. This year the poems ranged from Dr Seuss to Shakespeare, together with some wonderful individual compositions.
The performances are judged based on the students' time, memorisation and delivery. However, given the competition occurred online this year, the judging criteria were extended to include how innovative students were in creating an interesting visual background for their presentation.
The 2020 winner of the competition was Natalie Grant (pictured above). "Natalie delivered an outstanding performance of her original poem Street Boy during the Year 5 Poetry Competition," said her classroom teacher, Ms Cristina Campagna. "The powerful themes of her poem were palpable, as she took the audience on a journey of the young boy's feelings to finding hope."