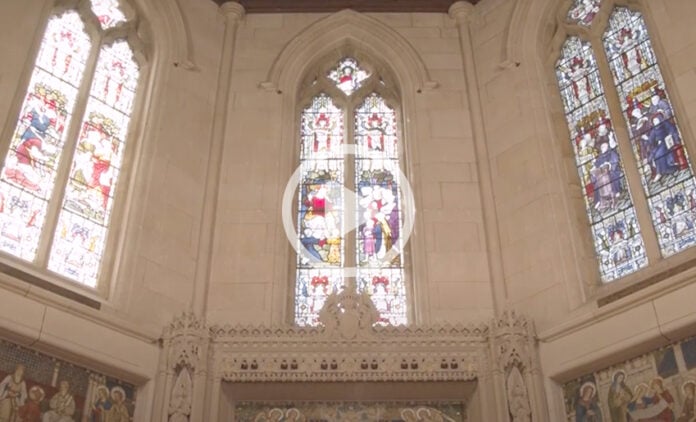 Senior Choristers are selected by their peers, in part, in recognition of their superior talent and commitment to the Chapel Choir.
Earlier this year, two former Senior Choristers and now successful professional singers, Timothy Reynolds (OM 2001) and Max Riebl (OM 2009), returned to Melbourne Grammar School to speak with the 2020 Senior Chorister, Benjamin Bonnici, about their time in the Chapel Choir, and their impressive careers.
(This video was recorded before social distancing measures were in place.)
You can watch Max and Timothy perform Kind Health descends on downy wings from Ode for the Birthday of Queen Anne by Handel in the Chapel of St Peter here.
---
About the Chapel Choir
The Chapel Choir is a unique singing group within Melbourne Grammar School. Typically comprising around 35 boys drawn from Years 5 – 12, students audition to be part of the ensemble and work exceedingly hard once part of it.
…(the) Chapel Choir was one of the greatest blessings in my school life. it was here that my voice was recognised, and my singing was both improved and promoted…

Max Riebl, The Melburnian 2009
Although the exact date of the first performance of the Chapel Choir is not known, it is believed that the Choir had its beginnings in the 1890s and it has been an integral part of the School ever since. You can read more about the history of the Chapel Choir here and about the origins of Chapel Choirs more generally here.
The Chapel Choir performs at a range of services and Eucharists each year, as well as stepping outside the Bluestone to sing with other elite groups, such as the Trinity College Choir on a regular basis.