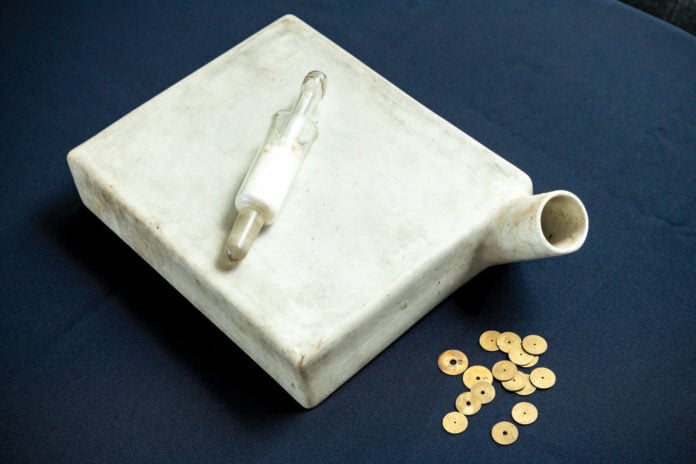 A small pot, currently on display in the Geoff Handbury Science and Technology Hub, may appear to be nondescript, but its appearance belies its significance. This seemingly inconsequential piece of equipment played a key role in one of the major milestones in medical history – the discovery of penicillin.
In 1928, Scottish researcher, Sir Alexander Fleming, serendipitously found that mould growing on a culture plate was apparently repressing the growth of certain nearby bacteria. This mould contained a substance we now call penicillin – the most widely used antibiotic in the world. Having published a paper on this finding in 1929, Fleming did not pursue his work in this area.
Fortunately that article was unearthed by Ernest Chain and a team of researchers in Oxford University, led by Australian Howard (later Lord) Florey, which included Norman Heatley. In 1940, Heatley showed that penicillin cured bacterial infection in mice and afterwards began limited experimentation on humans, with success.
Extracting and purifying enough penicillin for wider experimentation on humans proved to be challenging during WWII when resources were scarce – until Heatley hit upon the idea of growing the mould in particular shaped vessels. Seven hundred specially-fired ceramic pots which he designed were made by James MacIntyre & Co. It was these vessels that ultimately led to the capacity to produce enough penicillin to confirm its untold value as a life saving medicine and, in fact, as a vital factor in altering the course of WWII.
Heatley gave one of these penicillin pots and other material from his work to Dr John Best AO (OM 1957) when they met during the Florey Centenary celebrations in 1998. Dr Best was Chair of the Florey Centenary Committee of the Australian Institute of Policy and Science (AIPS).
Dr Best said of his relationship with Heatley: "You do not often meet a truly great person, and then develop a strong friendship with them. Heatley was an exemplar for those who in the future may wish to emulate his impact on humankind."
Dr Best generously gifted the pot, a set of weights and a purification instrument also used during the extraction process, to Melbourne Grammar School in 2018, "in the hope that it will inspire the students of MGS to scientific enquiry, endeavor and excellence". The items are displayed in the foyer of the Hub, together with other items of similar inspirational quality.
About Dr John Best AO (OM 1957)
Dr John Best AO MD BS (Melb) PhD (Mon) worked in policy, strategic planning and management in the health sector, advising Federal and State Governments, industry, hospitals and health services for many years.
Recognised as an authority in best practice relating to the policy and provision of medical services and medical intern training, particularly in rural and regional areas, Dr Best served as Director of Medical Services for four rural health services in Victoria. He was Chair of a tri-health service credentialing committee and inaugural director of clinical training for the Murray to the Mountains (M2M) Intern Program.
He is a former Deputy Secretary-General of the Australian Medical Association, as well as a former President of the International Society for Quality in Health Care and of the Australasian Faculty of Public Health Medicine within the Royal Australasian College of Physicians. Dr Best was also Chair of the AIPS for 18 years.
Dr Best was awarded Officer of the Order of Australia in 2007 "for service to medicine and to public health through support for strategic health research and policy development, and as a contributor to the development of rural and remote health services and medical education programmes, particularly in Aboriginal and Torres Strait Island communities and regional Victoria".