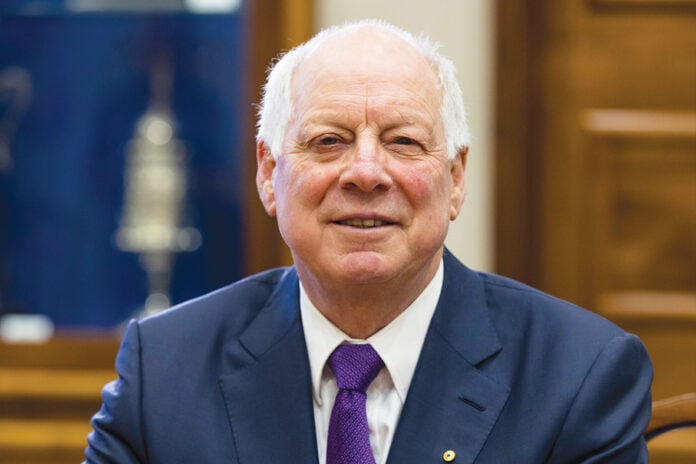 I am honoured to take up my role as 13th Chair of Melbourne Grammar School Council. As a student at the School, I benefited greatly from the opportunities offered to me, as did my three brothers and the seven other family members who have attended since. I am thrilled to have this opportunity to give back to the School that gave me so much.
2020 has certainly presented challenges to which our School community has risen. Our educational, financial and operational strengths have allowed us to deliver a fine off-campus learning program during the COVID-19 crisis. We were also able to offer all families a tuition fee discount in Term II, and waive boarding fees for the period of Boarding House closure. During a time of intense change, teaching and general staff have continued to provide an exemplary educational experience for all students, and build and support our community.
I would like to take this opportunity to recognise the astute and careful governance of the School by my predecessor, Mr Michael Bartlett (OM 1973) who retired from School Council in May 2020. Michael completed a 12-year term on Council, which is the maximum available under the Constitution, the past five as Chair. Working together with former Headmaster, Mr Roy Kelley, and then current Headmaster, Mr Philip Grutzner, along with Mr John Jesson, Director of Finance & Administration, as Chair, Michael placed the School in an enviable position in terms of its ability to respond to the COVID-19 crisis.
An exemplary leader, Michael's many contributions to the School also include cementing a cultural shift within the Bluestone to create a more diverse, inclusive and safe place for everyone, regardless of their heritage, gender or sexual orientation. Michael and former Headmaster Roy Kelley created an environment well ahead of the requirements defined by legislation that met the evolving norms and expectations of the community. This work included joining the National Redress Scheme and devising a practical, child-first approach to Child Safety in the School.
Michael's support extended beyond the immediate demands of Council. He served on a range of important School groups over the years including the Investment Management Committee, the Finance & Audit Committee, the Melbourne Grammar School Foundation Board and the Witherby Tower Society Committee.
Of course, the above is only a very limited overview of Michael's impact on Melbourne Grammar. More than all this, Michael was, and is, a gentleman in the true sense of the word. Calm, considerate and conciliatory, Michael brought honour and enthusiasm to each of his roles.
On behalf of the entire School Council, I thank Michael for his dedicated service over many years.
As incoming Chair, I look forward to supporting the School on its continued path of honouring tradition, responding to change, and achieving success in all fields.
Andrew Michelmore AO
Chair of Council
About Andrew Michelmore AO
Andrew Michelmore AO (OM 1970) is a leading figure in the global mining sector. He also chairs several not-for-profit entities. A Rhodes Scholar, Andrew has won rowing gold for Australia at an international level.
More information, including a video, about Andrew Michelmore is available here.