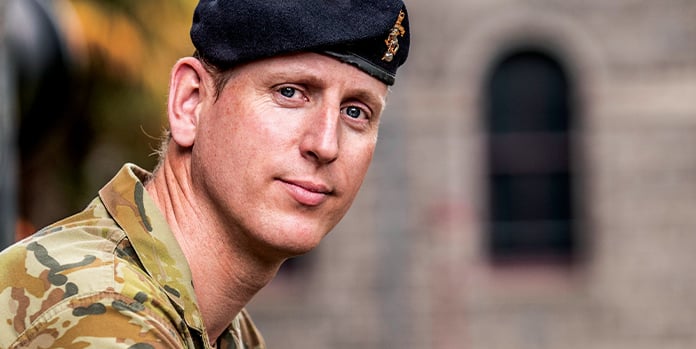 When LTCOL David Barton (OM 1997) left Melbourne Grammar with a scholarship to study at the Australian Defence Force Academy, he was already on the path he remains committed to today. Having now spent 23 years in the Australian Army, he describes this path as "more than just a job".
"I'll probably stay in the Army for life," David says. "Even as a 43-year-old man, there's a childlike enjoyment about the kind of work we get to do, and the breadth of opportunities we have is so much greater than what people realise. I'm constantly learning, and the stakes are as high as they possibly can be."
A career within a career
David's primary role is to serve as a mechanical engineer, focusing on ensuring the future capability of the Army.
"Capability means more than just specifying and acquiring things like tanks and rifles," David explains. "It also includes creating training programs, refining organisational structures, and working towards building the systems we need to defend our nation in the long term."
"Since WWI, every piece of equipment the Australian Army uses has changed – with the exception of the slouch hat," David adds. "We need to keep pushing forward to make sure we have the technological advantage. People's lives depend on us making the right decisions."
While his current role involves leadership and decision-making on a large scale, David says he remains "a soldier at heart".
"I had a boss once who flipped my view of leadership on its head," he explains. "He told me it was my responsibility to enable the people working below me, which cascades down through the ranks. Today, I feel my main duty is to those people, and to make sure they have what they need to do their jobs."
Leadership, duty and honour
Having served across Australia as well as overseas in Iraq, East Timor, Afghanistan and the Solomon Islands, David says his first lessons on how to work alongside others came from experiences as a Melbourne Grammar School cadet.
"I was a shy boy at school, but being part of the cadets was where I developed my leadership skills and confidence," he says. "Even doing things like cleaning dirty equipment taught me that you don't ask someone to do something you wouldn't do yourself."
"You see people's character when you're cold, wet, hungry and under pressure on a camp," David adds. "I realised that my values and behaviour suited those challenges, and that the people who thrived there were compatible with me."
David says he would encourage any young person unsure of their next step to consider going into a service-related role as a first step toward a meaningful career.
"This sort of work shows you have a willingness to give back to your community while gaining your own skills," he says.
"I see my work as part of the success of everyone who's serving, whether it's in conflict or in our work providing humanitarian aid and disaster relief in situations like floods, bushfires or other natural disasters," says David. "There's a lot of pride in what we do. It's immensely inspiring."