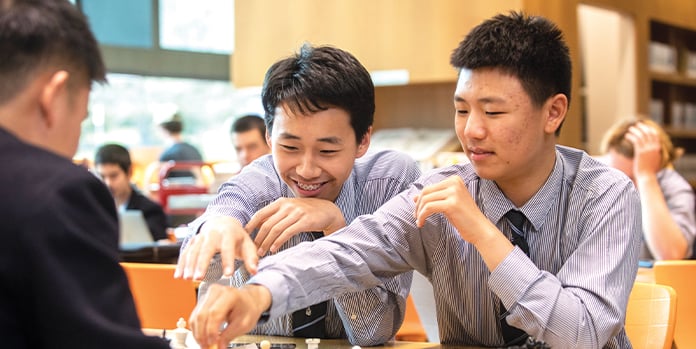 School libraries are fascinating places. Having worked at Melbourne Grammar's Parncutt Library for a decade, and as a teacher-librarian for 30 years, I believe that the role of the contemporary library is to support the whole learning community, but how we do this has changed over time.
A school library should function as a place that fosters curiosity and builds capacity for learning, and this means providing more than the collection itself. I operate with the understanding that the library is a school's 'third space', complementing the classroom and the playground, where students can reflect on ideas and connect with one another, and sometimes just find a place to 'be'.
One of our roles is to offer opportunities for students to collaborate around shared interests. In the Parncutt Library – which serves our Wadhurst and Senior School students – we currently have 80 students in our Senior School book club, 15 students in our Wadhurst book club and we offer other programs such as the chess club, and workshops to help students prepare for the national history challenge. In addition, there is a changing display of student artwork on our walls, and library displays that publicise themes such as Pride Week and Reconciliation Week which help spark discussions amongst our students.
We're always open to new ways we can bring like-minded individuals together, and different approaches that will animate our libraries. All this makes a library a rich environment where people are learning in different ways.
Like the library itself, the role of teacher-librarian is to encourage students to engage with the curriculum more deeply. These days, teacher-librarians are freed up to do more collaborative work with classroom teachers. We have the time we need to develop tools that can support student learning around particular topics, and we frequently team teach with classroom teachers to help delve into diverse materials relating to those topics and so teach the skills of information and digital literacy.
Our online Lib Guides are another example of this approach, where we bring together quality resources to help students explore a topic or idea. Rather than asking students to spend time searching for materials, we want students to spend the majority of their time on analysis, and to prompt those who want to go further to extend their understanding through self-directed research.
Above all, a contemporary school library should be a space that fosters a love of learning in anyone who spends time there. Our library welcomes everyone, catering for academically minded students and also those seeking a recreational respite from the pressures of study. It's important to cater for all, as libraries emphasise reading for pleasure from the early years right through to senior schooling. The goal is to encourage curiosity in our young people to explore our resources in all formats and dive into research and reading without hesitation.
While things may have changed in terms of the tools and resources libraries can now offer students and teachers, today, it's still a matter of providing a warm, inviting space, along with a collection that supports both the curriculum and students' research and recreational reading interests. The school library in the 21st century is a place for inspiration, curiosity, imagination and collaboration.
Di Ruffles
Director of Library Services
About Di Ruffles
Di Ruffles holds a Bachelor of Education in Librarianship from the University of Melbourne, a postgraduate diploma in computer education, and a Master of Business in Information Technology. She is currently undertaking a PhD in Education, looking at the transformative learning opportunities of teaching transversal competencies. Di has been President of the School Library Association of Victoria since 2014.
About the Parncutt Library name
The Parncutt Library is located in the Nigel Peck Centre for Learning and Leadership (CLL) which opened in 2008. It was named the Parncutt Library in 2012 in recognition of the many contributions to the School by Bruce Parncutt AO (OM 1968).
Bruce was a member of the School Council for 10 years (1999-2009), and a member of the Foundation Board for 18 years (1992-2010), including five years as President (1992-1998). He was instrumental in setting up the Parncutt Family Scholarship which enables very able students to attend Melbourne Grammar, regardless of their financial circumstances. Bruce is also a current member of the Witherby Tower Society.