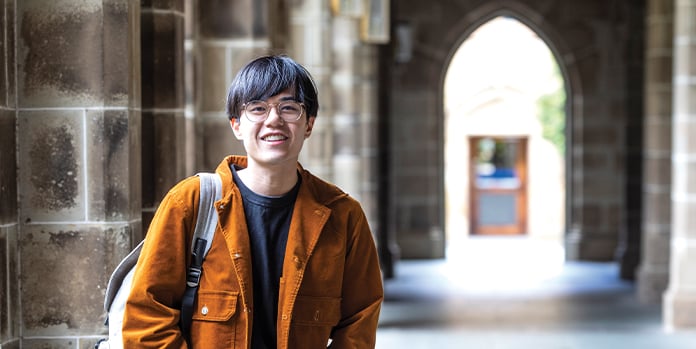 Like so many students who are financially supported to attend our School, Kavin Nenh (OM 2015) says the GJ Chestney Memorial Scholarship has shaped the course of his life.
"Being able to come to Melbourne Grammar meant I was exposed to opportunities I never even knew existed," says Kavin. "I've always been a quiet, reserved person who was slightly hesitant to try new things. At the School I was around students who had vastly different aspirations which was inspiring."
A leap into a larger world
Kavin was encouraged to apply for a scholarship at the School through The Smith Family. Coming from a small primary school, Kavin says the idea of studying at Melbourne Grammar was slightly daunting when he first got the news that he had been accepted.
"My school was so tiny, we didn't even have a proper sized playground," he says. "I remember coming to the School for testing and being shocked at how big it was. I was the only one from my school going to Melbourne Grammar, so I knew it was going to be daunting to begin with, but I decided to make the leap."
Despite his initial reservations, Kavin says he made friends quickly and felt supported by the people around him. "From the start, the Head of Wadhurst and my Head of House would check in to make sure I had what I needed," he says. "It was great to know that support was there."
"Over time I gained more curiosity and confidence," Kavin adds. "I never thought I was particularly sporty, but I had the opportunity to pursue tennis, along with music, debating, and a whole range of other activities. I got to try things I never thought I'd be good at, but ended up really enjoying."
How a single scholarship benefits many
Having just finished his Juris Doctor at Melbourne Law School, Kavin says he believes financial support like the GJ Chestney Memorial Scholarship can have an impact well beyond the individual.
"I do think there's a flow-on effect – it's something that benefits society as a whole," he says. "Students from backgrounds like mine end up with better opportunities, and when they take their place in the community, they end up providing a different perspective from those who may have been fortunate their whole lives. This is particularly true in an area like law, where there hasn't always been diversity in terms of the people who hold senior positions. I think I can add to how we understand the application of law in this way."
Reflecting on his time at our School, Kavin says it is difficult to express the gratitude he feels towards the generous donors behind his scholarship, Malcolm Chestney (OM 1949) and his wife, Pat.
"I can't imagine being where I am today had I not gone through Melbourne Grammar," Kavin says. "I'm so grateful to have had the opportunity, and I hope one day I'll be able to pass on the support I've had to someone else."
About the G J Chestney Scholarship
Malcolm Chestney (OM 1949) established the GJ Chestney Scholarship in honour of Malcolm's late father, George James (Jim) Chestney (1904-1973) in 2015.
"My father was a farmer in Gippsland Victoria who also served in the armed services during WWII, during my education. My mother worked in the city as a secretary," explains Malcolm. "It was financially quite remarkable that my parents were able to send me to Melbourne Grammar as a boarder, given the difficult economic circumstances that existed during this period."
The scholarship provides for a day student with demonstrable financial need throughout their time at the School.
Malcolm has also included a gift in his Will to the Endowment Fund to support the School's priorities as they arise in the future. Malcolm has been a member of the Witherby Tower Society since 2001. The Witherby Tower Society honours those who have left a gift in their Will to Melbourne Grammar and encourages others within the community to do the same.
If you are interested in finding out more about establishing a scholarship at Melbourne Grammar, please contact:
Chris Weaver
Senior Philanthropy Manager
+61 3 9865 7633
[email protected]
You can read about the tangible difference the generosity of our donors is having on Melbourne Grammar School in Philanthropic Impact (October 2021 – September 2022) which is available here.