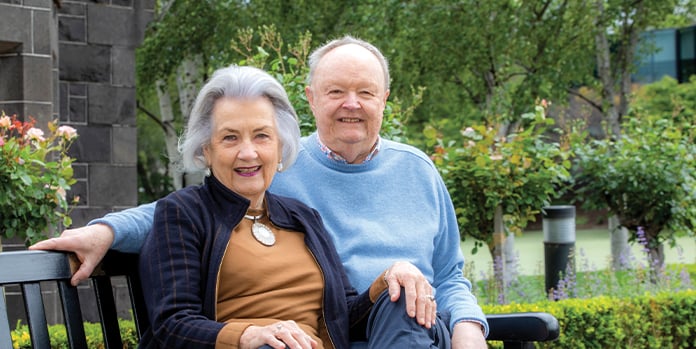 For Jim Cousins AO (OM 1961), a life of community service has simply been a matter of taking on the next challenge.
"Early in married life, my wife Libby (Elizabeth) suggested I start putting my hand up to contribute to the actual work of committees that I was involved with and, since then, I don't seem to have taken my hand down!" says Jim. "Our life seems to have been a series of moments of being in the right place at the right time, and when help has been needed, we've been able to offer that assistance."
Service across the arts and beyond
The kind of assistance Jim refers to has involved much more than good timing. He has served across the arts sector for many years, chairing the boards of, among many diverse institutions, The Australian Ballet and Melbourne Recital Centre. In 2004, Jim was awarded an Officer of the Order of Australia 'for service to arts administration, particularly as a major contributor to the National Gallery of Victoria, and to the community of Geelong'. Libby was also recognised for her service in 2021 through the awarding of a Member of the Order of Australia 'for significant service to the community through charitable initiatives'.
Jim's service to Melbourne Grammar includes membership on the School Council from 2012-2018. It was during this term that he was able to contribute to a project that transformed our School.
"Perhaps the project I am most proud of, from an Old Melburnian perspective, was chairing the committee responsible for building the Geoff Handbury Science and Technology Hub," Jim says. "This only came about through the work of a visionary Council, my hardworking Committee, and most importantly, a dedicated group of fundraisers. Without those funds, it couldn't have happened."
Sharing the value of contribution
Jim and Libby were early members of the Witherby Tower Society and he now serves as Chair of the Witherby Tower Society Committee. "Libby and I see leaving a bequest to the School as being a natural extension of gratitude for my education and the opportunities it afforded me at School and beyond," says Jim.
"Not everyone has the capacity to offer a gift to the School during their lifetime," he says. "The Witherby Tower Society offers like-minded people the opportunity to come together and learn more about the School's current priorities and future direction, and to become enthused as to the value that can be derived from a future bequest."
"I'm a great believer in programs like this because they mean our School can remain stable, and provide for students in the long term," says Jim.
"I was fortunate enough to be given a scholarship in the later stages of my education at Melbourne Grammar when I needed it, and have always felt indebted to what it allowed me to do later in my life." Jim adds.
"It's great to see the broad spectrum of students who are part of the School community today, and the achievements provided through bequest funding, and I am very proud that the Witherby Tower Society is contributing to that," concludes Jim.
If you would like to find out more about leaving a gift to the School in your Will, please contact:
Roni Baird
Manager, Bequests and Donor Relations
+61 3 9865 7632
[email protected]
You can read about the tangible difference the generosity of our donors is having on Melbourne Grammar School in Philanthropic Impact (October 2021 – September 2022) which is available here.