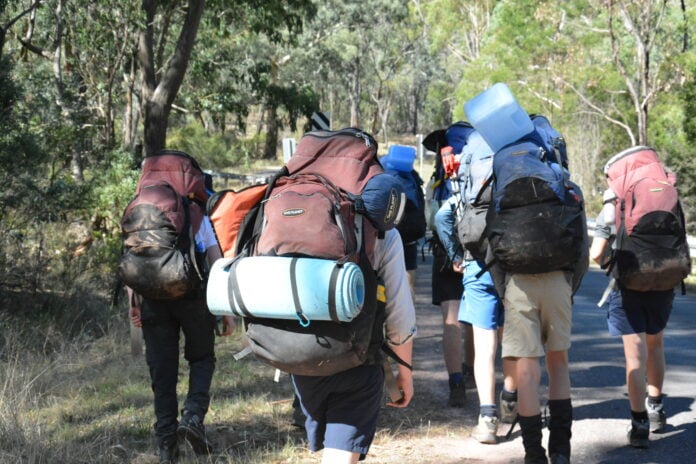 The Leslie Gladstone Robertson (LGR) Society offers Senior School students the opportunity to participate in a range of outdoor education experiences. In addition to advancing the skills of navigation and bushcraft, the program promotes the development of leadership capabilities with LGR groups often being led by Year 11 and 12 students.
Here, Archie Skinner, Year 12 student and 2020 Captain of LGR, explains how leadership training was adapted to the COVID-19 learning environment.
The COVID-19 restrictions have meant that our normal LGR activities have been heavily restricted this year. Nonetheless, the group was able to engage in an alternate program, exploring ideas of advanced leadership.
Towards the end of Term II a group of 20 boys ranging from Years 9 to 12 expressed interest in an advanced leadership course offered by Mr Andrew Baylis. The elevator pitch to run the leadership course was received well by the LGR Student Committee with the majority of boys putting their hand up to partake.
Joined by other members of the LGR and Outdoor Education staff such as Mr Simon Finnigan and Mr Nic Bishop, Mr Baylis drew on a wealth of knowledge and experience that he had acquired through his work in leadership training with army cadets.
Through some strategic thinking and planning, the team devised four leadership sessions, each building on knowledge from the previous session/s.
The first session was delivered on campus and included an introduction to many of the physiological and psychological responses to stress which are often experienced when out in the field. The second session provided the boys with necessary knowledge about heuristics, biases and different tenets of being a good leader. The boys' zeal and enthusiasm did not wane leading into the third and fourth sessions (delivered during a period of off-campus learning) which enabled the young leaders to apply what they had learnt from the previous weeks in different leadership scenarios ranging from examples in urban environments to those out in the bush.
Finally, through some careful consideration, the LGR leadership team, along with Mr Baylis, decided on a collection of different leadership scenarios, designed to test the boys. Mr Baylis attempted to incite stress amongst the boys by adding an element of spontaneity and time pressure when distributing the separate questions.
I can speak on behalf of all the boys that participated in saying that we were and are all very grateful to learn content which is not necessarily taught in classrooms and, secondly, that we cannot express our appreciation enough for the time spent outside of school hours preparing content for the sessions.
Mr Baylis' undeniable passion for leadership will not only spread to his young leaders but will also see the advanced leadership course be utilised in the future, producing competent leaders.
Archie Skinner
2020 Captain of LGR