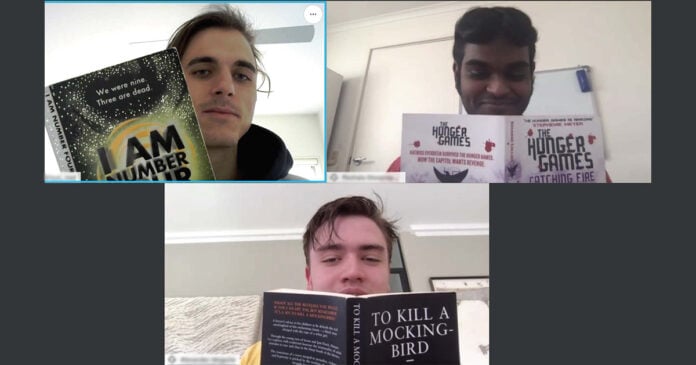 Book Week is an annual highlight at Melbourne Grammar School. While our love of reading spans the year, Book Week is an opportunity for students and teachers to dress up, come together and celebrate the written word. Fostering this appreciation for literature is vital, not only to develop the core skills of reading and writing, but to understand the stories and ideas that shape our lives.
In a normal year, Book Week would include workshops with guest authors, illustrators and poets. However, as with most aspects of this school year, our Librarians needed to rethink Book Week in the context of off-campus learning, and they rose to the challenge.
Older students marked the occasion by competing in the annual Library Trivia Quiz, along with sharing the books that were keeping them engaged during lockdown. Meanwhile, at Grimwade House, a jam-packed week of activities included making videos, craft activities, and of course dressing up as favourite characters. It was a week of laughter, creativity and passion.
We hope you enjoy this gallery of Book Week highlights.
---
Dress up fun at Grimwade House
The renowned dress up day saw members of Grimwade House transform into their favourite characters and literary themes. It may be the highlight for students but it is also a day for teachers to get amongst the fun as, they too, dressed up in their costumes from home. Costume highlights included Wally from Where's Wally and Eloise from Kay Thompson's, Eloise.
Online activities kept Grimwade House students entertained
Each day during bookweek, teachers hid behind masks to read a story as part of 'The Masked Reader'. Library staff and service leaders also created a video message to students to keep their chins up and keep reading during Lockdown. Even the Headmaster, Mr Philip Grutzner, and Head of Grimwade House, Mr Royce Helm, got amongst the fun!
---
Favourite reads from some of our Senior School students and staff
Senior School staff and students were encouraged to share some of their favourite books for our 'off-campus' Book Week. Although they cannot be blamed, it is evident that some staff members, including Deputy Headmaster and Head of Senior School, Mr Ben Hanisch (pictured top row, third from left) struggled to choose just one!
---
Senior School students and staff battle in the annual Library Trivia Quiz
Fifteen teams battled throughout the week to see who would win the coveted Library Trivia Quiz crown. Despite the event taking place virtually, the annual trivia host and History teacher, Mr Tim Morris, had no problem getting students and staff into the spirit of the occasion.