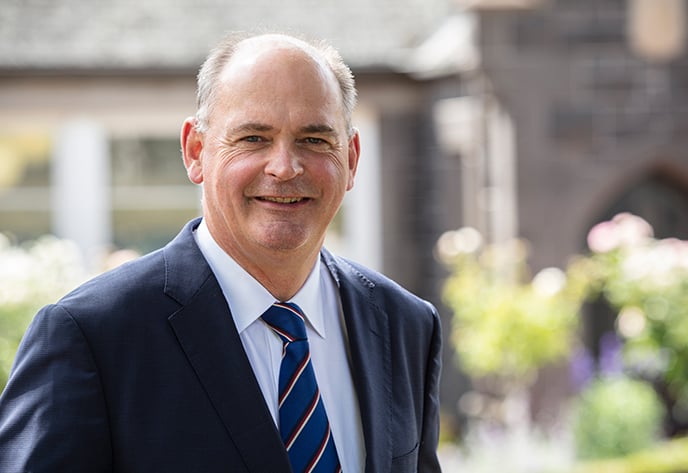 I recently found myself questioning my morning routine of reading the newspaper over breakfast. This was not because of the paper's increasingly diminished thickness, nor was it because of attractive online alternatives. My dilemma was based on the reality that reading the newspaper each morning inevitably invited me into a bleak world. Wars in the Middle East, acts of terrorism, extreme poverty, the refugee crisis, environmental challenges and the impact of COVID-19 on lives, hospitals, livelihoods, jobs, economies and lifestyle.
Coupled with these overt inequities in our world are the global economic challenges which are causing distressing levels of youth unemployment and poor wellbeing, along with the rise of boredom, frustration and anxiety that partner the economic statistics. Against this backdrop, we see the rising of extremist elements in western democracies and our world leaders seem incapable to solve these problems due to a lack of resources, cooperation or ability.
There are some who assume Australia can be immune from such world issues. Yet we know that in Australia, despite our affluence, we too have challenges; domestic violence, problems in Indigenous communities, illicit drugs, corruption, bullying, and economic issues as well as bushfires and other environmental concerns.
Understandably, the question must arise, should we continue to feed on such negativity or turn our backs on world affairs?
It would be easy to give up, but we see that part of our responsibility as a school is to prepare our children for such a world. We know that solutions to these challenges will be found through education. No school, including Melbourne Grammar, has all the answers, but every school can play their part. In schools, we routinely discuss the problems, develop knowledge, learn from the mistakes, seek solutions and search for wisdom. In schools, we foster relationships, develop respect and embed strong values – all routines of behaviour worth fighting for!
Post COVID-19 and when international travel returns, I trust many families will again enjoy the food, culture, hospitality, family time and sight-seeing associated with international travel.
A few years ago I visited Vietnam with my family. Like many Southeast Asian nations, Vietnam has a challenging past, but its future prospects are bright: a rich culture, friendly people, beautiful food and a rapidly growing economy. During a four-hour trip from Hanoi to Ha Long Bay, when I didn't have my eyes shut because of the kamikaze-style driving conditions, I observed numerous and recent investments by multinational firms in the car industry, electronics and manufacturing. With Asia's lower wages and higher productivity, one wonders how Australia will compete in these same industries.
Then, seeing mega investment in tourism by multinational hoteliers in resorts just as beautiful as Australia, offering holiday packages at a fraction of the cost, I also wondered how our tourist industry will manage. Competition is not just confined to tourism and manufacturing, we also observed many international schools being established and some universities setting up campuses in Vietnam, including some Australian ones.
Our short visit to Vietnam allowed me to reflect on the rising cultural and economic influence of Asia in the 21st Century. Twenty-five years ago, then Prime Minister, Paul Keating, wisely remarked on the necessity of Australia's engagement with Asia. Our ability to do this successfully could be a big determinant to our future prosperity. We certainly need a smart, flexible and motivated workforce to broaden our base beyond just farming and mining, to ensure we continue to be "The Lucky Country". Education will play a vital role.
I am confident that Melbourne Grammar School has a solid international focus, via the study of foreign languages, appropriate provision of ICT, relevant and dynamic curriculum, student exchanges, overseas trips and more. Through these programs our students learn what it means to be an engaged and responsible global citizen, and this supports their preparation for the strong likelihood they will live, work, serve, learn and trade with the wider world.
Now that is news worth reading.
Philip Grutzner
Headmaster