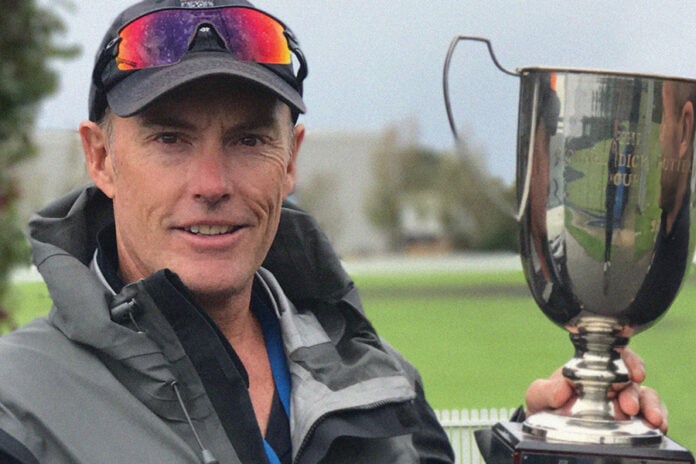 Dan Church (OM 1990) has a strong history of connection with, and contribution to, Melbourne Grammar School stretching back almost four decades.
When Dan commenced in Grimwade House as a Year 6 student, both his parents were already long-standing and well-respected teachers at Melbourne Grammar School. "My dad was Head of Physical Education at the Senior School and my mum was Head of Health and Physical Education at Grimwade House," he explains. "I ended up having dad as my coach for the First XVIII, which generated a few heated discussions about selection. He made sure I didn't get a spot until I really deserved one."
Ultimately, in addition to playing in the First XVIII, Dan was Vice-Captain of Boats and Captain of Deakin House in his final year of the School. Given his sporting prowess, it seemed a career focusing on physical education was a natural progression. The decision to teach was sealed after a gap year at Marlborough College in the UK, where Dan had his first coaching opportunity at 18 years of age.
When appointed to the role of Director of Rowing with a Physical Education teaching component at Melbourne Grammar in 2004, Dan was quickly asked when we were going to be in a position to win Head of the River by the then Headmaster, Paul Sheahan. "I said it would take us five years," Dan remembers. "We ended up coming second in the fifth year but had nearly a clean sweep in the sixth, winning both the Head of the River and the National Rowing Championships."
Dan's time at the School has also included seven years as Teacher in Charge of Football, working with "fantastic" (says Dan) coaches such as Stewart Edge, Brett Montgomery and Brad Green. "This role gave me many tremendous experiences, from working with some brilliant students, to winning and losing the Cordner Eggleston Cup, and trips to Adelaide to play against St Peter's College in our annual match," says Dan.
But his pastoral care roles have been just as significant—nowhere more so than in his involvement with the Beyond the Gates (BTG) program. "I was involved with BTG from the start, and it's still one of the highlights of my year," he says. "It's an incredible feeling to meet up with boys who've been out on their own for days on end. Making the experience better for students who might be finding the trip a little more challenging is also a great feeling."
Dan also emphasises how rewarding his pastoral care role has been as Head of Deakin House. "When I started nearly eight years ago, I said my goal was to make sure we turned out really good, decent young men," he says.
"If these boys can go on to become people who are good to their friends, teachers, parents and partners, then we've met our goal."
This year, Dan added President of Common Room to his suite of roles, taking on responsibility for staff social functions. "My dad held this role 30 years ago, but I think he got to organise a few more in-person functions than I have this year!" Dan says. "I think this kind of thing helps build the School culture and morale amongst staff. People I talk to outside work can't believe how much fun we have and how much support there is for one another as staff."
Next year, Dan will move on from Melbourne Grammar to take up the role of Director of Sport at Wesley College. He leaves with a strong sense of achievement. "I've been able to work with some amazing people during my time here," he says. "We've been able to create a shining example of what a school sporting program can be as well as hopefully a great experience for boys and their families."
"What I tell new teachers is to put your hand up for everything. The more you give, the more it pays you back in spades," Dan says. "The School culture and environment here is special, and it's the thing that stands out most when I think about my time here."