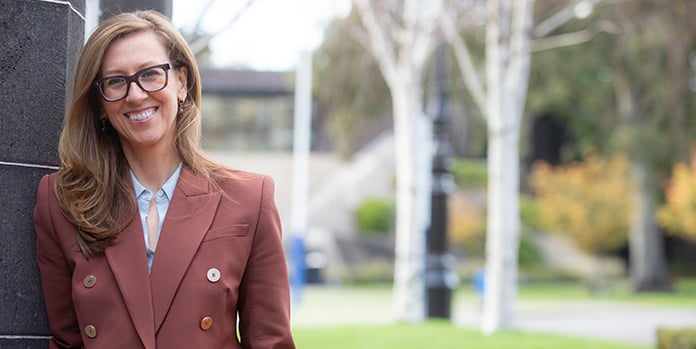 As the new Director of Community Relations at Melbourne Grammar School, Kate Barnett's responsibilities include Old Melburnian and community engagement, student recruitment, philanthropy, communications and outreach.
With qualifications in languages, law and communication as well as extensive experience in leading philanthropic and stakeholder engagement across the education and health sectors, Kate brings a wealth of knowledge and insight to this key portfolio.
Kate has two teenage children and enjoys hiking, travel, and volunteering with a not-for-profit aid and development organisation.
Here Kate discusses her focus and intentions for the years ahead.
Why Melbourne Grammar? Why now?
It's so great to be here. I'm excited to join Melbourne Grammar School at this moment, after an exceptionally challenging 18 months for us all. It's never been more apparent that Australia needs young people ready and able to tackle the complex problems in our world. It's a privilege to work with Philip Grutzner, the School Council, the School Executive, and the entire community of students, staff, parents, alumni and friends on shaping Melbourne Grammar for the future. As in the best partnerships, it's a team effort.
As I look forward, I have such a strong belief in Melbourne Grammar. I know the School provides the values, the culture, the pursuit of excellence and all-round enrichment to enable young people to be the active informed citizens our world needs as we face the challenges of the future. Indeed, working as a community to develop our young people is the task and opportunity of our times.
Why is a strong community important for our School?
I believe that every relationship we nurture within our community will yield outcomes that create joy, satisfaction and impact for all involved. Ultimately, a strong community for our School means that current and future generations of students will graduate with the tools they need to be positive change-makers and leaders.
Our work in Community Relations is underpinned by a strong commitment to the School's vision, mission and values. A sense of community is one of Melbourne Grammar's seven core values that shape our School. Our functional areas (which each have strategic and tactical responsibilities) are Admissions, Archives, Marketing & Communications, Development, and Alumni & Community Engagement. Our work is purposeful and effective when we're all aware of each other's areas, at a high level, and we use that to make linkages and to work together.
We do this in alignment with, and with the help of, exceptional volunteer leaders – on the School Council, Melbourne Grammar School Foundation, Friends of Grammar, The Old Melburnians, support groups and many more – and I believe the dynamic of mutual respect and collaboration works very well in support of the School.
I have so much gratitude for the collegiality, commitment, and generosity of our volunteers. We're immensely fortunate to have such extraordinary advocates and champions across the Melbourne Grammar community.
What is your personal vision for this role?
One of my great joys is building and strengthening relationships. I feel fortunate to work in a profession where I have the opportunity to meet so many extraordinary individuals. I've met people in this line of work that I'd never have met any other way.
During my first fortnight, I attended the annual ANZAC Service of Commemoration with Senior School students in The Old Melburnians War Memorial Hall. In this building – itself a permanent reminder of the impact of generous giving to the School – we heard distinguished alumni speak of incredible stories of service and sacrifice by past students. It demonstrated to our students that they're just at the beginning of their lifelong connection as a member of the Melbourne Grammar community.
The conversations I've had with students, parents, Old Melburnians, and staff in these early weeks and months have been incredibly welcoming, heartening and encouraging. It's profoundly moving how people give back to the School and how we can see and feel that sense of community which lies at the heart of Melbourne Grammar. I love the passion and the level of excitement and potential here for what we can achieve together.
---
I invite you to connect with me as we prepare for the future at Melbourne Grammar School. I can be contacted at +61 3 9865 7680 and [email protected].
Welcome Kirsty Hooper
Kirsty Hooper comes to Melbourne Grammar School as Head of Alumni and Community Relations. With 10 years of experience in Alumni and Stakeholder Relations at the University of Melbourne, Kirsty is passionate about education and is thrilled to be supporting the School to enhance engagement with its community. Kirsty will work with The Old Melburnians and Friends of Grammar to deliver programs and initiatives that enable the community to be actively involved in the life of the School.