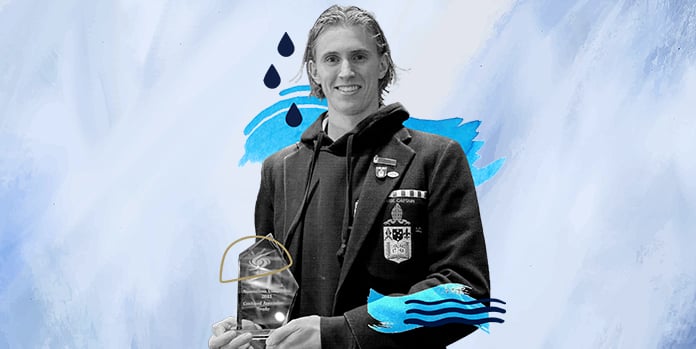 It has been a stellar year in the pool for members of the School's Swimming team.
Collectively, the team had a very successful season, obtaining their highest ever points total in an APS Finals Competition. After a stirring tussle for second place, Melbourne Grammar placed third, losing second place by just one point to Scotch College. Congratulations to St Kevin's College for winning the overall championship.
"I was very proud of all the boys and how the team came together so well. Everyone was committed to doing their best for the School."

Ed Speller, Year 12 student, Captain of Morris House and Captain of Swimming
Ed had the honour of being selected as the Co-Captain of the APS team competing in the Victorian Schools Association Swimming Competition, a fitting recognition of his talent and commitment to the sport over many years.
Victorious in all his events at the meet and winner of the overall Champion's Award, Ed accepted the championship trophy on behalf of the APS team. He has had subsequent success in the Australian Age Swimming Championships this year.
A 50m, 100m and 200m freestyle specialist, Ed says: "When you are swimming fast, it feels like you are on top of the water and nothing can stop you."
Ed's outstanding ability in the pool was formally acknowledged several years ago. He was invited to join an elite Swimming Australia high performance squad at just 15, the youngest person in Australia to achieve this recognition. Today, he remains the youngest person in his squad.
A frequent state representative and now a 2024 Olympic Games hopeful, Ed trains at least seven times a week in the pool, together with completing two Pilates sessions, three gym sessions and one yoga session.
Despite the demanding schedule, Ed prioritises his education. "My day typically starts at 5.30am but I always put school work first,' he explains. "I plan to continue into tertiary studies next year."
And early morning training has its advantages according to Ed. "It wakes you up and gets you ready for the day. You get a lot of time to yourself to think about things when swimming laps; sometimes that relates to swimming but other times it is almost like meditation where you think about things going on in your life. You don't have any interruptions; it can be very relaxing and peaceful."
Ed has a very considered approach to racing. "It's getting the fine details right that make you the best person in the pool on that day," he explains. "For me, in addition to concentrating on technique and diet, it includes studying my competitors in action and paying careful attention to the race environment."
"The rewards make it all worthwhile," Ed says. "Representing your school, your club, or your state is awesome. Plus, the friendships you make along the way are great. The medals are just a plus."
Father and son record
The 2021 APS Finals Competition was one of family and School sporting history. Year 10 student, Harvey Larke's time of 2.17.05 in the 200 metres Individual Medley shaved two seconds of his father's School record which had stood since 1989. Stuart Larke (OM 1990) was in the stands to witness the passing of the record across generations. Harvey subsequently competed with distinction in the Australian Age Swimming Championships, the Victorian Schools Association Swimming Competition and the Australian Surf Lifesaving Championships.