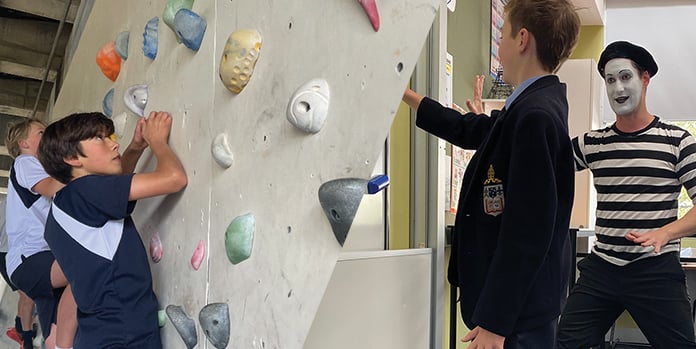 Experiential learning is active. It can take place in any setting and develops learner agency. It is personal, purposeful, and develops broader relationships. The process is authentic, and the products are often uncertain, but the learning is enduring.

Wadhurst staff
Experiential learning underpins much of the academic program at Wadhurst. With the important purpose of connecting theories and knowledge to their application in real-world situations, aspects of the curriculum intentionally engage students in 'hands-on' experiences and reflection.
Many of the elective multi-disciplinary Argo units offered in Year 8 involve this approach. For example, 'Moved by Science' examines exercise physiology and anatomy, along with aspects of skill acquisition and sports psychology. "Students learn the theory behind many concepts and then apply their knowledge in a variety of ways," explains teacher of the subject and Deputy Head of Wadhurst, Mr Dan Newton. "This includes completing a heart rate and recovery analysis after running the Anderson Street hill on 'The Tan' and undertaking a session of rock climbing/bouldering."
And the approach clearly resonates with the students. Bobby Yang, Year 8, says: "My favourite experiential learning activity was in the gym completing a circuit where we recorded our exercises, what muscles we used and the type of contractions."
Edward Charola, Year 8 says: "I enjoyed learning about acute effects of exercise and counting my heart rate and comparing it with others while also examining recovery rates."
Coordinator of French at Wadhurst, Ms Adrienne Richardson, also develops novel experiential learning opportunities for her students. This year she invited a mime artist to the School, among other activities.
"Famed French mime artist Marcel Marceau is well known for his professional performances," says Adrienne. "However, what is not as well known is that he was very active in the French Resistance during WWII and used mime as a way of pacifying Jewish children while smuggling them out of France."
"Working with a mime artist offers a cultural and historical experience that every boy can engage with regardless of their linguistic ability," explains Adrienne. "Boys who are often not active participants in an activity became really involved, because they could easily do so."
In Visual Art, engagement with externally‑based practicing artists occurs on a regular basis. "The Artist-in-Residence program helps students generate new ways of thinking about the society they live in through the lens of art, design and communication," says Mr Chris Drummond, Coordinator of Visual Art and Head of Teaching and Learning at Wadhurst. "Students are exposed to the practice of professional artists and engage in the process of making work for an exhibition at the end of each year,"
In 2019, Wadhurst students built 'The new Wadhurst city' in collaboration with Callum Preston, a major exhibition which reimagined what a city might look like and how it might function. The project was multidisciplinary in nature and involved collaboration across an entire cohort.
This year, students are working with artist, Jess Kease, to create a unique mural on a Wadhurst building wall. There will be a report on the outcomes of this project in a later edition of Grammar News.