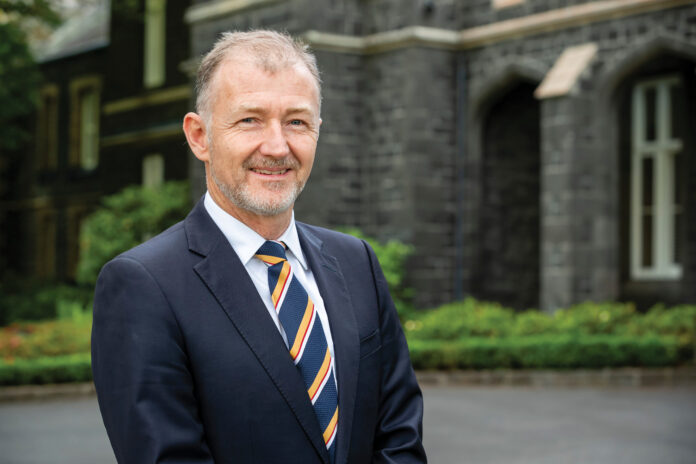 The Old Melburnians Council works closely with the School to create and nurture connections with alumni, and we are delighted to welcome the new Director of Community Relations, Kate Barnett, to her role.
Together, we foster a culture of giving back, evident in the strong tradition of Old Melburnians who support the School through philanthropy and those who give time to mentoring and sharing career insights with students and young Old Melburnians. The desire of the Old Melburnians to support the School is strong.
This year we have an exciting program of events and activities, some which hark back to early days, such as the Old Melburnians Annual Dinner. In 2021 the Annual Dinner tradition resumes after a year's absence and promises to be bigger and better than ever. Details here.
Sport has always been a focus for Old Melburnians, and there are opportunities to join one of the many Old Melburnian sporting clubs. Clubs have resumed in 2021 and they welcome new members interested in Football, Athletics, Cricket, Hockey, Soccer, Tennis, Basketball, Water Polo and Bowls. Later this year, the OM Football Club will celebrate its Centenary (delayed from 2020).
As we look to the future, The Old Melburnians will evolve in line with the growth of our alumni. Melbourne Grammar has educated girls at Grimwade House since 1979 and today we have 942 Old Melburnian women. We have invited Kirsten Perrett (OM 1993), Amanda Day (OM 1994), Amity Smith (OM 1996) and Demi Manolas (OM 1995) to advise the Council on how to make our activities more inclusive and relevant to the women in our Old Melburnian community, and I am grateful for their support.
Supporting communities is also a focus and The Old Melburnians Dick Cotton Fellowship funds one community service project each year. Recent recipients Olivia Vizard (OM 2015) and Shaun Edwards (OM 2011) are featured on the next page.
Building on the success of previous years, Council Member Bill Cowan AM (OM 1962) leads mentoring and career networking opportunities for Old Melburnians.
There are many success stories from participants of the 2020 mentoring program such as Bill Liu (OM 2016). Despite the challenges for new graduates last year, Bill found support from his mentor Rohan Workman (OM 2004) and secured a new opportunity with Melbourne based accounting startup, Thrive.
Read more about the 2021 Career Masterclass for young Old Melburnians here.
Going forward, The Old Melburnians Society will continue to expand its activities to be relevant to its members. Our motto of "Connect and Grow" describes how Old Melburnians grow through maintaining and building connections over a lifetime. We recognise that the experience of a Melbourne Grammar education includes the benefits of membership of an alumni body, and we are determined to make the focus and activities of the Old Melburnians relevant and valuable for all our alumni.
Andrew Tulloch (OM 1986)
President of the Old Melburnians