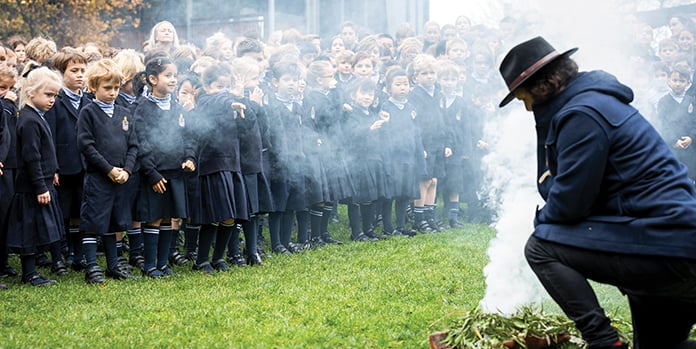 On Wednesday 26 May, Grimwade House students and staff gathered under the flags at the front of Harleston where Jaeden Williams, a Boon Wurrung man and ancestor of renowned First Nations leader Louisa Briggs (1836 – 1925), conducted a Welcome to Country and a Smoking Ceremony in recognition of National Sorry Day.
Jaeden generously explained the significance of the smoke to the assembled group. He also spoke about Bundjil, the creator eagle and Waang, the protector of the people. Bundjil and Waang are totems of the local First Nations people.
Semester 1 Grimwade House captain, Jasper Chamberlain, also recited the Grimwade Acknowledgement of Country.
Later, students walked respectfully through the smoke on their way to an Assembly in Alfred Felton Hall. Here, they were treated to a reading of Collecting Colour (2009) by Kylie Dunstan which tells the story of a young girl living in the Top End of the Northern Territory.
This occasion was an important part of Grimwade House's proactive stance in supporting First Nations advocacy and embedding this into the curriculum. "The objective has been to move to a model of teaching First Nations education which is sustainable and where the understanding and respect of, and responsibility for, First Nations perspectives and culture are embedded into the fabric of Grimwade House," explains Year 3 teacher Ms Shelley Faulds.
In recognition of the School's program, for the second year in a row, Grimwade House reached the final six in the School and Early Years category of the HART (Helping Achieve Reconciliation Together) Awards which celebrate and honour the efforts of local governments, education institutions and community groups across Victoria who progress reconciliation in their communities.