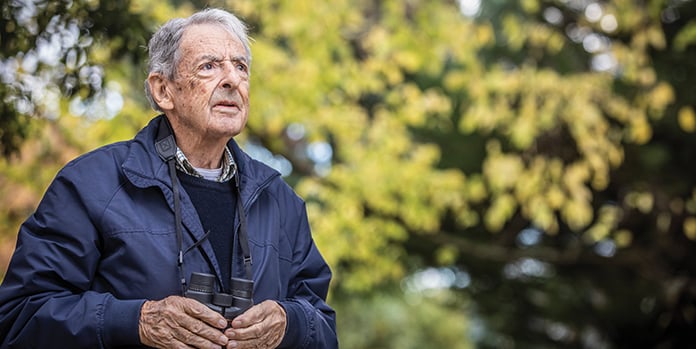 When David Plant OAM (OM 1947) returned to Melbourne Grammar School in May this year, it was to introduce students to a simple, enduring passion: birdwatching.
At 90 years of age, David has a lifetime of knowledge about birds to share. When a group of Senior School boys expressed interest in birdwatching on campus, it was natural for David to make the trip to meet with them.
"It's always best to look up and to use your hearing," he told students. "Over time you'll come to recognise various calls."
Introducing others to birdwatching is part of David's day-to-day life.
He has volunteered as the "Birds Walk" guide at Victoria's Royal Botanic Gardens since 2004, helping visitors appreciate the many birds that make the Gardens their home. He has also served as Council Member and Vice President of Friends of the Royal Botanic Gardens, as editor of Guidepost magazine for botanical guiders, and in various leadership roles for BirdLife Australia and Melbourne's Wallaby Walking Club.
In recognition of these many years of volunteer service, David was included in this year's Australia Day Honours list. Extremely humble about his award, David says the Order of Australia came "out of the blue". "I was very surprised and delighted, but it doesn't change things," he says. "You still keep going. I volunteer for my enjoyment, and the guides and staff at the Gardens are great people to work with."
David left Melbourne Grammar at just 17, having decided to train to become a wool buyer. "I went overseas to learn the trade in the UK, Germany, France and Italy," he says. "At the end of the Korean War, the Australian wool market collapsed, which took down many companies including mine. I had a new house, a three-year-old, a mortgage and no job."
"The big problem at that time was that almost every job required HSC English, which I never sat for," David adds. "But it wasn't a requirement for sales positions, so that led me into a career in real estate, where I stayed until 1996."
Throughout all this, birdwatching remained an abiding interest. "Real estate meant I could take holidays when I wanted," David explains. "I could go up to Cape York, say, to see the migratory birds in January. I had to fit in family holidays as well, of course, but when my family was at the beach, I was birdwatching in the bush."
When students asked for highlights from David's many decades of birdwatching, he pointed to a recent trip to Arnhem Land. "There's a very shy and secretive bird that lives in the mangroves up there called the Chestnut Rail," he told students. "We were out drifting in a fishing boat one day, when our guide pointed out a tiny movement along the shore. All of a sudden it came out of the mangroves. It's one of the most difficult birds to see anywhere in Australia."
After confirming the list of birds students might see across the Melbourne Grammar campus, and tips on how to record their sightings, David left with a last word of advice: "Be careful—bird watching can be very addictive."