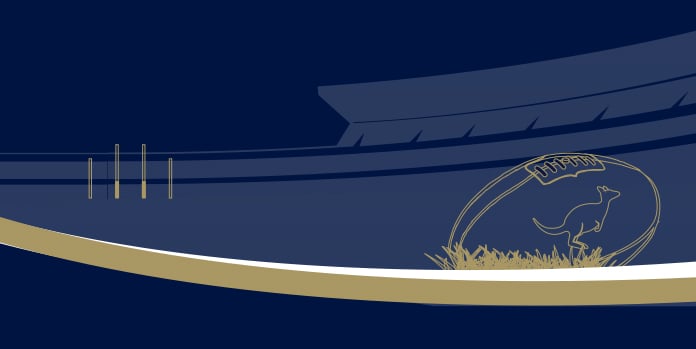 How do you identify a great footballer? Natural talent and the hard work it takes to sharpen it to an elite level is a good starting point.
Brownlow medallists like Don Cordner (OM 1939) and Coleman medallists like Tom Hawkins (OM 2006) don't win these awards by just showing up. Recipients of club best and fairest awards, All‑Australian team members and inductees into the AFL Hall of Fame have been recognised for their ability and flair.
Leadership and service must also be a factor. Club captains, like Chris Langford (OM 1979) and Steven May (2010), and others in leadership roles have been placed in these roles for a reason. And surely longevity in the game is important – getting selected week after week, year after year, is no mean feat.
One hundred and sixty Old Melburnians have played with distinction in the country's pre‑eminent football competitions – the VFL, AFL and AFLW1 with consistent representation virtually since the competitions began. Here we present one possible All-stars team drawn from this enormous talent pool.
"There were many combinations of great players we could have chosen for the All-stars team," explains Headmaster and 'Chair of Selectors', Mr Philip Grutzner (OM 1981). "In the end we used a set of criteria that we felt were fair and measurable, and then tried to build a functional team."
Other members of the selection panel were:
Jack Hawkins (OM 1972), former AFL player
Chris Langford (OM 1979), former AFL player
Tim Morris (OM 1981), School staff member
Jess Rottura, School staff member
Chris Wischer (OM 2008), President of the Old Melburnians Football Club
The following criteria were used as the basis for selection:
Played 70+ games at VFL/AFL/AFLW level
Leadership/achievement e.g. club captain, awards
Skill set enabled functional team selection
2+ years at Melbourne Grammar
Represented Melbourne Grammar in APS football since its formation in 1908
"I should note that some members of the panel may appear to have had a vested interest in the decision making," says Philip. "Where there appeared to be a possible conflict of interest, that individual stepped out of the discussion until relevant decisions had been made by other panel members."
"It was wonderful to see the family connections over many years within the player pool," says Philip. "In the All-stars team we selected, Jack and Tom Hawkins are father and son, and Tom and Ed Langdon are brothers as are Don and Denis Cordner."
2021 Old Melburnians All-stars football team line-up
FB
Ian Synman (OM 1953) [St Kilda: 154]
Chris Langford (OM 1979) Captain [Hawthorn: 303]
Tom Langdon (OM 2012) [Collingwood: 89]
HB
Geoff Case (OM 1951) [Melbourne: 123]
Steven May (OM 2010)* [Gold Coast Suns: 123; Melbourne: 37]
John Goold (OM 1959) [Carlton: 108]
C
Ed Langdon (OM 2014)* [Fremantle: 67; Melbourne: 29]
Zach Merrett (OM 2013)* [Essendon: 155]
Xavier Ellis (OM 2006) Hawthorn: 86; West Coast: 34]
HF
Andrew Thompson (OM 1990) [St Kilda: 221]
Jack Hawkins (OM 1972) [Geelong: 182]
Simon Beaumont (OM 1993) [Carlton: 152; Hawthorn: 27]
FF
Harold Moyes (OM 1913) [St Kilda: 61; Melbourne: 45]
Tom Hawkins (OM 2006)* [Geelong: 290]
Francis Vine (OM 1922) [Melbourne: 105]
FOL
Don Cordner (OM 1939) Vice-Captain [Melbourne: 166]
Denis Cordner (OM 1941) [Melbourne: 152]
John Kerr (OM 1952) [Footscray: 81; Melbourne: 1]
IC
Brian Davie (OM 1952) [Richmond: 89]
Peter McLean (OM 1959) [Melbourne: 28; Carlton: 48]
Brian Roet (OM 1956) [Melbourne: 88]
Matt Thomas (OM 2004) [Port Adelaide: 87; Richmond: 15]
*currently playing in AFL competition
Key: Club: no. games as at 23 June 2021]
Player statistics
Old Melburnian VFA/AFL players by Senior School House*
Ninety-six Old Melburnian VFA/AFL players have been in a Senior School House since the first Houses were established in 1914. Five of these individuals were in two Houses due to day-boarding transfer or upon new House creation.
| | | |
| --- | --- | --- |
| House | Established | No. Players |
| Bromby | 1949 | 13 |
| Bruce | 1952 | 5 |
| Creese | 205 | 2 |
| Deakin | 1961 | 1 |
| Hone | 1979 | 1 |
| Miller | 1961 | 8 |
| Morris | 1914 | 12 |
| Perry | 1952 | 11 |
| Ross | 1914 | 12 |
| Rusden | 1914 | 18 |
| School | 1914 | 15 |
| Witherby | 1914 | 8 |
*Records are incomplete for Grimwade House and Wadhurst Houses.
Boarders vs. Day students*
Of the ninety-six Old Melburnian VFA/AFL players since 1914, 27% of these have been boarders.
*based on Senior School House
Old Melburnian VFA/AFL/AFLW players by club
One hundred and sixty Old Melburnians have played football in VFA/AFL/AFLW competitions, some for more than one club.
| | | |
| --- | --- | --- |
| Club | Years in competition | No. players |
| Adelaide FC | 1991 – | 2 |
| Brisbane FC | 1987 – 1996 | 0 |
| Brisbane Lions | 1997 – | 1 |
| Carlton FC | 1897 – | 12 |
| Collingwood FC | 1897 – | 4 |
| Essendon FC | 1897 – | 21 |
| Fitzroy FC | 1897 – 1996 | 2 |
| Footscray FC/Western Bulldogs | 1925 – | 6 |
| Freemantle FC | 1995 – | 1 |
| Geelong FC | 1897 – | 10 |
| Greater Western Sydney FC | 2011 – | 1 |
| Gold Coast Suns | 2011 – | 1 |
| Hawthorn FC | 1925 – | 8 |
| Melbourne FC | 1897 – | 38 |
| North Melbourne FC | 1925 – | 6 |
| Port Adelaide FC | 1991 – | 1 |
| Richmond FC | 1908 – | 4 |
| South Melbourne FC/Sydney Swans FC | 1897 – | 6 |
| St Kilda FC | 1897 – | 36 |
| University FC | 1908 – 1914 | 17 |
| West Coast Eagles | 1986 – | 1 |