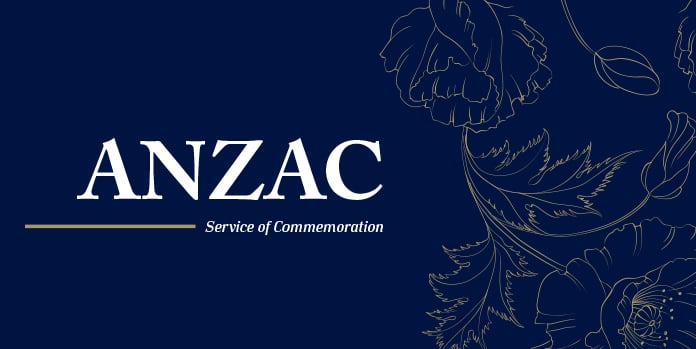 The 2021 Melbourne Grammar School ANZAC Service of Commemoration was held in The Old Melburnians War Memorial Hall on Monday 26 April 2021.
This annual event is conducted in accordance with the Deed of Gift, which was drawn up to acknowledge the funding of the The Old Melburnians War Memorial Hall building by Old Melburnians.
With the flag flying at half-mast atop the Witherby Clock Tower, the School community gathered together to acknowledge those Old Melburnians who have served our country and those who continue to do so today. The atmosphere was sombre and filled with reflective moments as 800 students, staff and Old Melburnians filled the hall.
The service was presided over by Senior Chaplain, Rev'd Hans Christiansen. Andrew Tulloch (OM 1986), President of the Old Melburnians Council, gave a moving address which you can read here.
WWII veteran, 95-year-old John Carre-Riddell (OM 1944), read the Ode for the Fallen, and needed no prompting with the script, being an excerpt from a poem that he knows by heart.
Andrew Tulloch and 2021 Captain of School William Flintoft laid wreaths on the memorial in the Hall's Sanctuary, after which Year 12 student Felix Vine played the Last Post and the Reveille.
After the service, the Old Melburnians Council hosted a lunch for Old Melburnian past or present members of the armed services, as well former Presidents of the Old Melburnians Council. The lunch was also attended by Headmaster, Philip Grutzner (OM 1981)and Chair of Council, Andrew Michelmore AO (OM 1970).