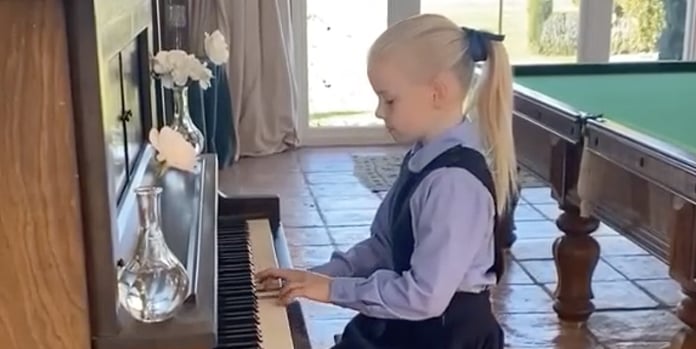 Despite the Victorian COVID-19 lockdowns, music performances have continued virtually across the School this year.
There have certainly been challenges involved but, because of the importance of performance experiences for young musicians, students and teachers have managed to make it work.
"As a young musician still securing your craft, you can be wracked with nervousness before a big concert," explains Philip Carmody, Director of Music. "But in time that leaves you, and what you do is simply look forward to what you're about to share with an audience, because you know already what the impact will be."
"Music performance is a dialogue, not just between the performers themselves, but between performers and audience," says Philip Carmody, Director of Music. "This dialogue can take a variety of forms, from singing and clapping at a rock festival to intense, silent listening to a symphony in a concert hall. On one hand the noise of an audience is a yardstick of success, on the other hand it may be the silence. The reward is the interaction, the shared experience."
Grimwade House students have performed in several virtual concerts. The digital concerts replaced the instrumental concerts which would normally have taken place in Alfred Felton Hall in front of a live audience. There were some beautiful items across all year levels and students proudly presented their polished items.
Watch Charlotte (Year 2) perform the James Bond Theme by Monty Norman.
Watch Adam (Year 3) perform New York, New York by John Kander.
At Wadhurst, a number of virtual community events took place. The Music Captains put together an online music trivia event. It was particularly designed for those in the Wadhurst Music Ensembles, such as jazz, choir, band, orchestra etc., but all were welcome to join in.
The Melbourne Grammar School Symphony Orchestra has continued to rehearse throughout the year and had the opportunity to dust off the viola, warm up the vocal cords or just rattle those pots and pans through the 2021 'Big Bash'. Students played without the stress of a performance or even of being heard, allowing them to build confidence in their skills for when live performances begin again.
Watch Georgios (Year 8) perform Double Bass Conzerto in D major for Double bass and Orchestra, First Movement by Václav Pichl.
At the Senior School, music students continue to prepare for their exams. As is the case across the whole School, music lessons have been conducted online with terrific results. The outcomes of these lessons can be seen in the videos below.
Watch Darius (Year 11) perform Cello Suite no. 2 in d minor, BWV 1008: VI Gigue (Transcribed for Viola)
Watch Lucas (Year 9) perform Gavotte and Rondo from the Partita in E major by JS Bach.