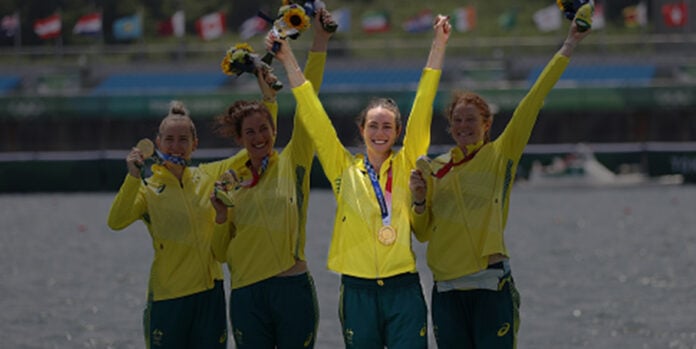 At this year's Tokyo Games, Jessica Morrison (OM 2010) became Melbourne Grammar's fifth Olympic Gold Medallist. Winning the Women's Four (W4-) rowing event, Jessica also represented Australia in the Women's Pair (W2-) events, in which she placed seventh.
2021 marks Jessica's second Olympics after she represented Australia at the 2016 Rio Games in the Women's Eight.
Reflecting on a career that has included its fair share of challenges, Jessica says her love of sport can be traced back to her experiences at Grimwade House.
"Grimwade is where I discovered my passion for competition," Jessica told our Year 6 students in an online Q&A session in September. "I was given every opportunity under the sun to explore whatever it was I enjoyed. I tried out snow sports, athletics, and learned to swim in the Grimwade pool."
Swimming became Jessica's first true sporting love, but a shoulder injury put an end to hopes of representing Australia in the pool. "I was determined to get to the Olympics, but my injury meant I had to get there a different way," she says. "I switched to rowing at 21, which is quite late in life to start rowing training. I was terrible at first. It took a lot of practice and many years of hard work to build up my rowing skills."
Today, Jessica trains 16 times a week to maintain her fitness and endurance. She says the demands of rowing training have meant missing out on everything from friends' birthdays and weddings to family holidays.
"I needed a lot of patience and an appreciation for the fact that success takes time,"

"I had to follow the process, believing I could do anything as along as I was persistent."

Jessica Morrison (OM 2010)
With the postponement of the Tokyo Games, Jessica reset her Olympic expectations once again. "I had to figure out how to turn the delay into an opportunity," she says. "I needed a mindset that would enable me to keep going and stay positive."
Discussing her Tokyo experience with our students, Jessica shared that the Gold Medal moment was "gone in a flash."
"It was such a close finish, so I wasn't 100% sure we'd won until I turned around and asked one of my teammates," she explained. "When I realised we'd done it, it was an amazing feeling."
"Whenever training gets hard, I think about my teammates," Jessica said. "Sure, there are days I don't want to get out of bed and train, but I never want to let them or myself down."
"This medal isn't just a medal for me" she told the Grimwade House students. "I'm very happy to share it with you all. My dream for this came to life at Grimwade."
"It's crazy to think that Jessica went to the same school as us and ended up being a Gold Medallist Olympian," wrote Year 6 student Sybella Payne, reflecting on the event.
Jessica's experience of starting a new sport later in life also made an impression on Charlie Lanham, who wrote: "Meeting Jess made me realise I don't have to decide my life for a long time."
You can view a video news story which includes footage of part of the race here.