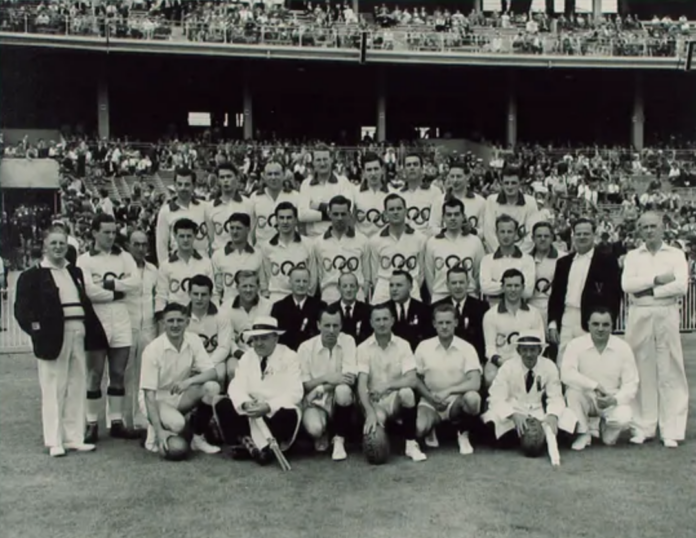 On Friday 7 December 1956, the day before the Melbourne Olympics closing ceremony, a crowd of 30,000 people watched a demonstration game of Australian Rules football at the MCG with Old Melburnian representatives on both sides of the competition.
A Victorian Amateur Football Association (VAFA) team played against a combined Victorian Football League (VFL)/Victorian Football Association (VFA) team. Both sides competed with the Olympic rings emblazoned on their shirts. The VAFA team wore a white guernsey with green trims, white shorts and white socks with green tops, while the VFL/VFA combined team wore green with white trims, and black shorts. Every player was able to enter events across the 1956 Melbourne Games for free.
At the end of the match, the VAFA team had achieved a decisive win over their opponents, scoring 12.9.81 to 8.7.55.
This video provides a 1956 media report about the game. (Note that it may be slow to load.)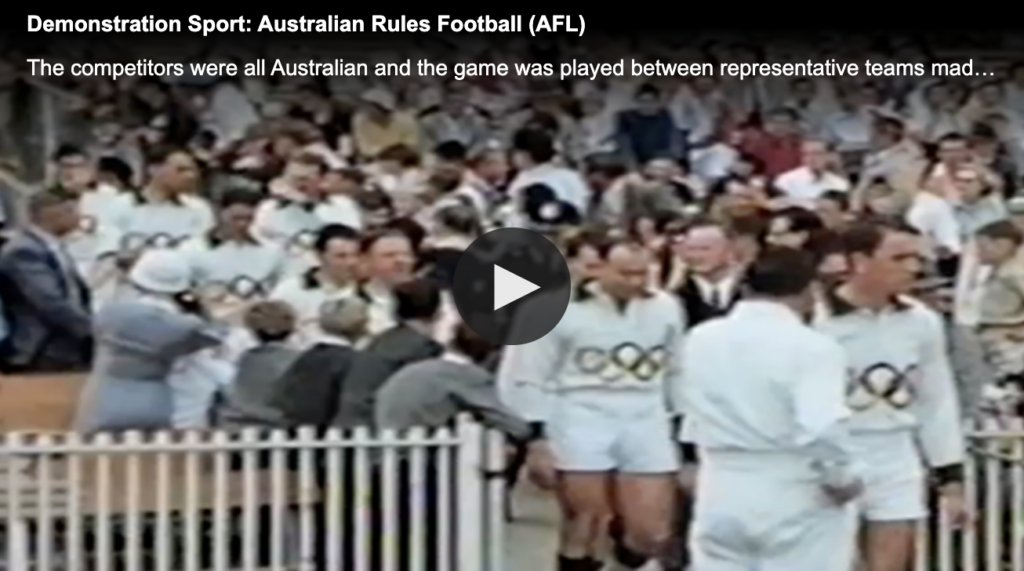 VAFA team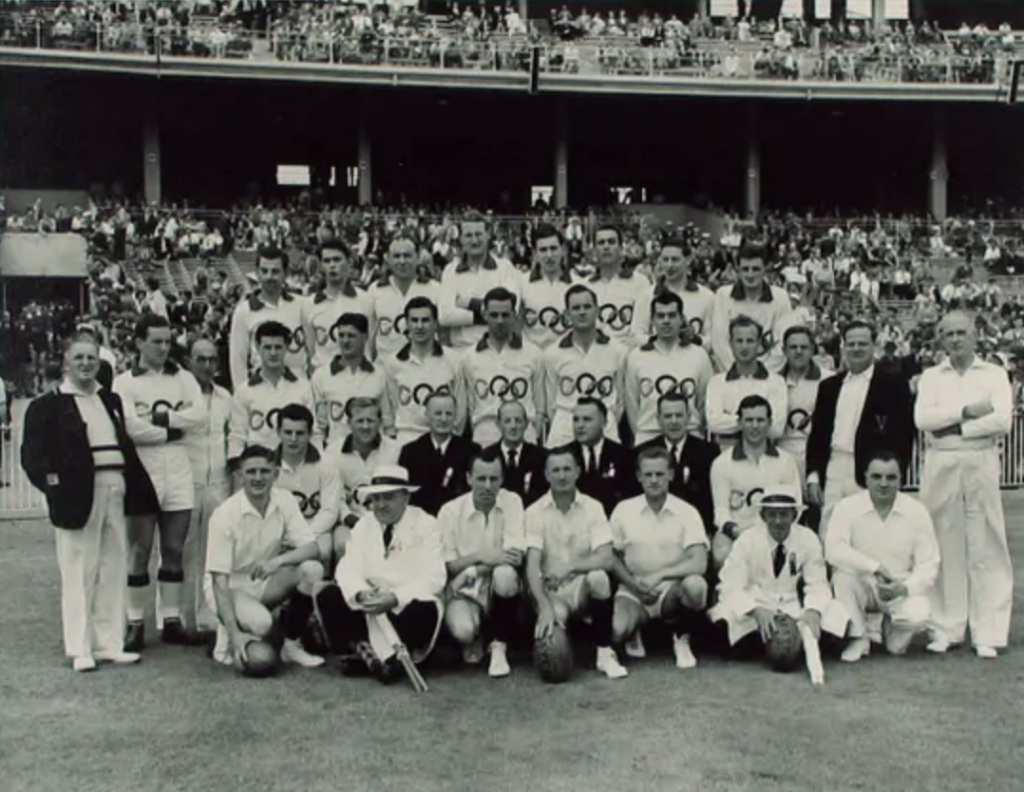 Five Old Melburnians lined up for the VAFA team: Murray Mitchell as Vice-Captain, Duncan Anderson, John Hayes, Jim Hannan and Bryce Thomas. Pre-match speculation predicted a VAFA win, largely due to Duncan Anderson's form. He kicked three goals that day.
Anderson, Thomas, Hannan and Mitchell played in the 1948 MGS premiership First XVIII team.
Player snapshots
Murray Mitchell (OM 1949) was School Captain, and Captain of the First XVIII and First XI. Mitchell continued to contribute to School sports after graduation, captaining and coaching teams at the Old Melburnians Football Club during the 1950s. He also played cricket for South Melbourne.
Duncan Anderson (OM 1949) played School football alongside Mitchell, while also excelling at athletics and cricket. He was named Rhodes Scholar for Victoria in 1954.
John Hayes (OM 1953) captained the MGS First XVIII, played for four years in the university XVIII and for Victoria, was voted VAFA 'Best and Fairest' player in 1956 and played seven games for St Kilda in 1958.
Jim Hannan (OM 1948) was selected for the school's First XI, First XVIII and the athletics team.
Bryce Thomas (OM 1948), another sporting all-rounder at School and after graduation, was frequently picked in the Victorian track and field team during the 1950s as well as in the combined Victorian amateur football team.
Combined VFL/VFA team
Three Old Melburnians took the field for the combined VFL/VFA team, including Denis Cordner (OM 1941) as Captain. The demonstration match team also included Dick Atkinson (OM 1952) and Brian Davie (OM 1952).
Player snapshots
Denis Cordner (OM 1941) played 152 senior games for Melbourne FC during 1943, and 1948–1956 playing in three premiership teams during his time at the club. His talent and longevity in the game has meant that he has been included in every Old Melburnian 'all-stars' team named by the School – the 2021 All-stars team, the 1998 Team of the Century and the Team of the Sesquicentenary.
Captain of Grimwade House in 1937, Cordner was a talented athlete at School. In 1941 he occupied the position of ruck in the record breaking First XVIII Football team which achieved a total of 1005 points in their five Public School matches, scored 43 goals 23 behinds in a single game including 18 in one quarter.
Brian Davie (OM 1952) played 89 senior games for Richmond FC during 1952–1959. He was also named in the the 2021 All-stars team, and the 1998 Team of the Century.
Davie was Morris House Captain and Captain of Football in 1952. An outstanding full-forward, Davie was the leading Public Schools goal scorer in 1950, 1951 and 1952.
Richard (Dick) Atkinson (OM 1952) played seven senior games for Melbourne in 1955 and 1957. He was Captain of Ross House in 1952.
Writing about the performance of members of the 1952 First XVIII football team in the 1952 Melburnian vol. 77, coach 'Bully' Taylor stated: J. R. Atkinson played effectively in the ruck and used his weight to advantage. He is a beautiful kick, and he rarely failed to get rid of the ball to advantage.
The Teams
| | |
| --- | --- |
| Club | VAFA Team Players |
| Wesley Collegians | Geoff Hibbins |
| Old Melburnians | Murray Mitchell, Duncan Anderson, Bryce Thomas, Jim Hannan |
| University Blacks | Tony Capes, GJ Gill |
| University Blues | MB Keogh, John Hayes |
| Old Scotch Collegians | Peter Harkness, Dick Tindale |
| Coburg Amateurs | Ray Pettigrove, Phil Rochow, Ian Merrick |
| Power House | L Grant |
| Old Paradians | Laurie Wakeling |
| Ormond | Dick Fenton-Smith |
| Commonwealth Bank | Cyril Empey |
| Ivanhoe | Lloyd Williams |
| Melbourne High School Old Boys | R Collins |
| | |
| --- | --- |
| Club | VFL-VFA Team Players |
| Collingwood (VFL) | Ray Gabelich, Brian Gray, Bill Serong, Brian Turner, Ken Turner |
| Footscray (VFL) | John Westacott |
| Hawthorn (VFL) | Brendan Edwards |
| Melbourne (VFL) | Dick Atkinson, Brian Collopy, Denis Cordner |
| North Melbourne (VFL) | Laurie Dwyer, Des Tobin |
| Richmond (VFL) | Ray Allsopp, Brian Davie, Frank Dunin, Vic Naismith |
| South Melbourne (VFL) | Neil McNeill |
| St Kilda (VFL) | Bryan King, Brian Muir, Brian Walsh |
| Box Hill (VFA) | T Leach, Dave Plunkett |
| Camberwell (VFA) | Ian Clarke |
| Coburg (VFA) | Ron Dangaard, Jack Sassella |
| Moorabbin (VFA) | Norman Burgess |
| Northcote (VFA) | Thomas Hussey, Keith Woolnough |
| Oakleigh (VFA) | Keith Anderson, Don Kitto |
| Prahran (VFA) | Barry Gaze, Lindsay Gaze |
| Sandringham (VFA) | Keith Marshall, Ross Shrives, Des Quinn |