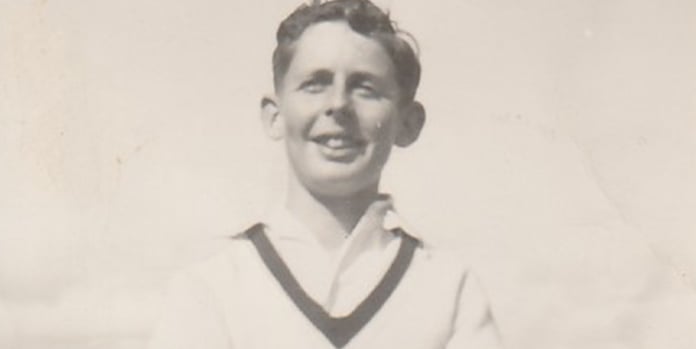 The twin stories of the E H Flack Scholarship's eldest living recipient and its youngest beneficiary show how powerful philanthropic action can be in changing the lives of others.
Edwin Flack (OM 1890) wasn't just Australia's first Olympian. A talented accountant, his gift to the School, the E H Flack Scholarship, is still supporting boarders who may not have been able to attend the School without this assistance.
An outstanding career in diplomacy and government relations
For (Ewan) Mick Letts (OM 1949), who turns 90 next year, the scholarship marked the beginning of a trajectory that would take him from the small town of Donald, Victoria to diplomatic roles working on behalf of Australia's interests across Europe.
"When I think about it, I realise it meant very much to me and my future life," says Mick, who was originally attending a school in his hometown from which there was no possibility of going on to Year 12 or preparing for university. At Melbourne Grammar, the expectations were very different.
"They expected you to perform, whatever you were doing," Mick says. "There was a goal to do things well, not just to do them at all."
And then, in Mick's case, the E H Flack Scholarship opened the door to the rest of the world. He studied Arts and Law at the University of Melbourne, topping his course in French and German.
"After university my first diplomatic posting was to Rome in Immigration," explains Mick. "I then moved into the Trade area and worked in the German city of Bonn and Stockholm in Sweden before being appointed as the Counsel-General and Senior Trade Commissioner in Hamburg, Germany. All the while, I felt I was representing the town of Donald, my country, and Melbourne Grammar."
Upon returning to Australia in the 1980s, Mick held high level positions in the federal government and was later CEO of the Grains Research and Development Corporation.
"My knowledge of languages has been pivotal throughout my career and that really started from my study of Latin at Melbourne Grammar," he says.
"This School has done so much for people, and especially for people like me," Mick adds. "I wouldn't have been able to have the career I've had without the Scholarship."
Philanthropy has had an impact across the Letts family. Mick's eldest brother, Malcolm Letts (OM 1944), was the E H Flack Scholarship's first ever recipient in 1940, and his second eldest brother, Goff Letts CBE AM (OM 1942), also attended the School with scholarship support. Malcolm went on to become a successful medical professional and Goff's career included serving as Chief Minister of the Northern Territory.
New challenges and opportunities
Year 11 student Oscar White is the latest in the next generation of E H Flack Scholarship holders. "I didn't have any connection with the School before we heard about the Scholarship," he explains. "I took the test, and a few months later we were flying down from Queensland to do an interview with the Headmaster. Everything changed from there."
Enrolling as a Year 9 boarder in 2019, Oscar and his family found the distance between their home and the boarding house a challenge at first. In 2020, Oscar's family relocated to regional Victoria to be closer to the School—a sacrifice he deeply appreciates.
While the past two years have included difficulties, they've also provided opportunities to grow. "I feel I'd like to be part of the School House leadership team next year," says Oscar. "I want to be part of building connections across year levels and making sure everyone feels safe."
"The friendships I've made here with all the boys—they'll be lifelong friendships," he adds. "If I had the opportunity to contribute to a scholarship like this in the future, I would. I'd want to pass on this opportunity if I had the chance."