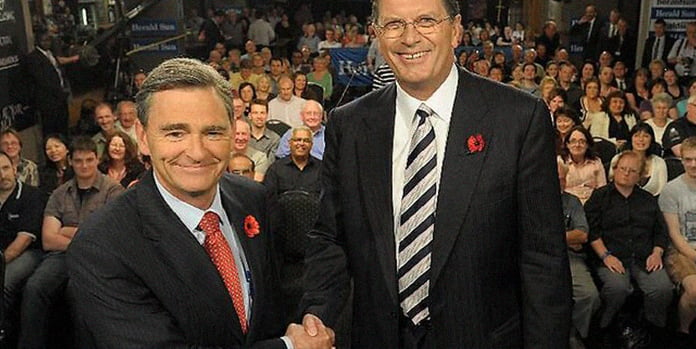 The exchange of ideas is part of the strength of our School culture. In mid-September, our community saw this process in action when former classmates, the Hon Ted Baillieu AO (OM 1970) and the Hon John Brumby AO (OM 1970), engaged in a thoughtful and respectful webinar discussion on the nature of leadership. The 'conversation' was chaired by Old Melburnian President Andrew Tulloch (OM 1986).
Mr Brumby was Victorian State Premier and leader of the Victorian Labour Party from 2007 to 2010. After becoming Leader of the Victorian Liberal Party in 2006, Mr Baillieu served as Victorian State Premier from 2010 to 2013.
Both former Premiers spoke about how their time at our School influenced their respective political outlooks, citing their teachers as critical influences.
"I came away from Melbourne Grammar with a belief that nothing was impossible," "That was in part because of the extraordinary quality of the teachers and the leadership of our Headmaster, Sir Brian Hone."

John Brumby
"Like many students I remember missing school to attend anti-Vietnam War demonstrations, and I wasn't disciplined for that," Mr Brumby added. "The School took a view that participation in public life was a good thing."
Mr Baillieu echoed this admiration for teachers and School leaders, adding that Melbourne Grammar was where he developed a fascination with architecture that led to his pre-political career. "There were amazing people at Melbourne Grammar doing amazing things," he said. "The School culture also had a strong international perspective and a sense of history—an emphasis on the bigger world around us."
While each former Premier took a unique path to politics, both emphasised the value of bringing outside experience to their roles as political leaders. "Architecture led me to think about the future of institutions and the effects of demographic change," said Mr Baillieu. "It turned me into a forward thinker."
"It's really important to understand how the community works," added Mr Brumby, who said his work as a teacher in a regional school transformed his views. "I'd always had a comfortable background, but when I was teaching I met people who lived in timber shacks with dirt floors. That experience served me exceptionally well, and firmed up my political beliefs."
Both Baillieu and Brumby were called to make difficult decisions during their respective Premierships, and spoke about how they navigated these pivotal moments.
"It's easy to be poll-driven, but that approach will never achieve anything for the State," Mr Brumby said. "Listening to informed members of the community broadens your understanding and helps you make decisions that aren't just driven by the latest news cycle."
"No matter what your decision is, there's always going to be someone who'll tell you you're wrong," added Mr Baillieu. "You need people who you can bounce things off, and to be able to trust your gut and make up your own mind."
Reflecting on his time as Premier, Mr Brumby underscored the sense of community responsibility instilled at Melbourne Grammar. "In my political career, there's been no greater sense of fulfilment than being able to do good for constituents, being able to help even one person," he said.
When asked to share his advice to those interested in a political career, Mr Baillieu spoke about taking a "quintessentially Victorian" approach. "Our State has a multicultural history—one shaped by courageous, ambitious people who got on with it, and who were often very young," he said.
You can view a recording of the conversation here.