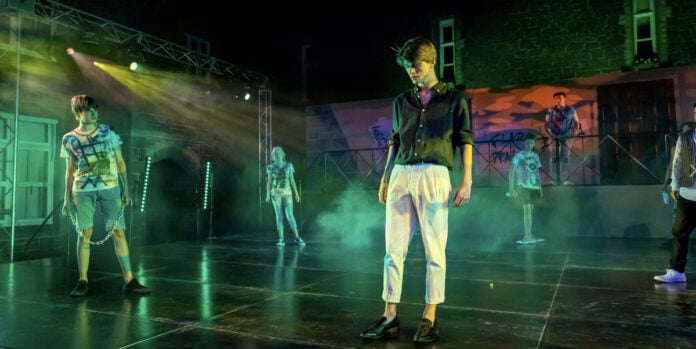 To everyone's joy, theatre returned to the Quad in February with Shakespeare's early comedy The Two Gentlemen of Verona. This play has many staple devices of Shakespearean comedy: pairs of lovers, disguise and cross-dressing, betrayal and redemption. And in addition to the memorable characters and plot, it also has a starring role for Crab the dog!
The play explores the fortunes of two friends, as they journey from Verona to Milan, falling in and out of love. Valentine (Xander Cuming) is keen to explore the world, but Proteus (Will Flintoft) wants to stay with his love Julia. He is nevertheless sent away with Valentine by his father Antonio (Jude Harrington), to further his education. At Milan, both young men fall in love with Silvia, the daughter of the Duke (Tom Cuming), and so the plot is stirred.
Shakespeare makes thorough use of dramatic irony, in that the audience can see the whole plot at once, while the characters themselves are caged in their limited perceptions. The irony was extended for this audience watching Will Flintoft – a thoroughly decent chap from all reports – play the complete cad Proteus. His nonchalant forgetting of his erstwhile love Julia was juxtaposed by Xander Cuming's passionate pursuit of Silvia, and utter dejection when betrayed and banished.
Angus Billson was very convincing as the conceited bore Thurio, particularly dazzling in his dancing shoes and sparkling tuxedo. Sam Negri had a lot of fun as the clown Launce, filling the stage with his humorous reflections, as he lectured his dog Crab on life's problems.
Sam's own dog Ziggy played Crab with great patience and attention. The well-known critic Harold Bloom wrote tongue-in-cheek that Crab has "more personality than anyone else in the play", and even when the rain tried its hardest to dampen everyone's spirits on the Thursday night, Ziggy sat still, rather mournful, and never fluffed his lines.
Melbourne Grammar's cast members were well supported by students from Melbourne Girls' Grammar.
A particular feature of the production was the inclusion of a live band, in the form of a string quartet, comprising Daniel Bian, Darius Goh, Russell Liao and Hamish Vowels, playing tunes by composers as diverse as Bach, The Police, and Daft Punk. There was even a commissioned work from Australian composer Sarah King, featuring a terrific viola solo.
Director Belinda Annan deserves great credit for simply getting this production to stage, given the continuing interruptions to rehearsal and production schedules by Covid–19. It was a great team effort by the whole cast and crew.
Martin Ball
WATCH: A scene from the 2021 Quad Play