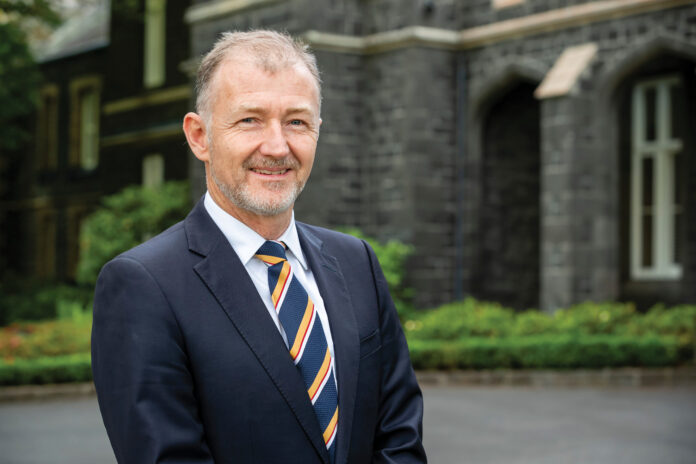 With 2021 well underway, the typical school calendar has mostly resumed and a return to traditional in-person events has been met with great enthusiasm. We have started to look beyond the immediate impact of the Covid-19 pandemic and think about the future opportunities for our Old Melburnians' community.
The impact of Covid-19 on the workplace has seen a dramatic increase in the use of digital communication tools, and proven that working remotely can be effective. Many of these changes in work practices are here to stay.
The implications of these changes are only beginning to be understood. It is clear that working remotely does not suit everybody, especially younger workers at the start of their careers who benefit from the interaction and guidance from experienced workers in the workplace. In addition, the need to be flexible and open to new ways of working is now seen as an imperative. This flows into a need for lifelong learning – it is even more likely than two years ago that workers will have multiple chapters in their careers, potentially working in roles in a few years time that don't even exist today.
The Old Melburnians Society is well placed to assist our community adjust to these changing work patterns. Our tagline of Connect and Grow speaks to the strong engagement in our community that builds and deepens over a lifetime. We expect that in the future there will be an increasing interest from younger OMs, who are actively navigating career options, in making informed choices through speaking with someone already undertaking that career.
The Old Melburnians is not only a natural place for younger OMs to turn when seeking to understand career pathways, it is a community where older OMs are willing to 'give back' by assisting a young OM. In 2020 there was an increased interest from mid career OMs to assist with our mentoring program, and help guide younger OMs during the economic downturn. We are keen to further develop our mentoring program in 2021 and OMs who wish to participate either as mentors or mentees are encouraged to register their interest here.
"Connect and Grow" also reflects our focus on increasing the opportunities for OMs to engage with each other. Our online digital platform OMlink (omlink.org) provides an easy way for OM's to reach out to other OMs and to stay up to date with the latest news. I encourage you all to register if you have not done so already. We are also pleased that our sporting clubs are competing again in 2021 and new members are always welcome. Visit here for more information.
Opportunities to engage will also be enabled by the return of our events program and our annual webinar series. Some updates below
Watch the recording of latest OM Webinar with Melbourne Grammar School Chair of Council Andrew Michelmore AO on OMlink
OM Business Breakfast with John Wylie AM, Friday 30 April
Cordner Eggleston Cup Eve Cocktail Party, Thursday 17 June
OM Annual Dinner, Thursday 12 August
OM Class reunions (including catch up reunions that were cancelled last year) will be held in May, July and September this year, all dates are now on the Melbourne Grammar School website events page.
Community Speaker Series event featuring OM Council member Anton Leschen (OM 1983), Wednesday 5 May
We are also planning an event to recognise the centenary of the School's Simon Fraser Memorial Boathouse on the Yarra River. Please keep as eye on the Melbourne Grammar School website events page for further details.
Finally, on behalf of the OM Council I would like to recognise a number of individuals.
Sandy Clark (OM 1962) received an AO in the Australia Day Honours list for distinguished service to industry, the arts and charitable initiatives. Congratulations Sandy on this well-deserved honour.
The OM Council is also pleased to welcome the school's new Head of Alumni and Community Relations, Kirsty Hooper, who joined us in January and together with Judith Mein is making an excellent contribution.
The OM Council also pays tribute to the sterling service of the Director of Advancement and Admissions, Andrew Boyd, who retired in April after five years in this role following 18 years as Head of Grimwade House. Andrew has been a wonderful source of guidance and advice for the OM Council and we wish him every success in his next chapter.
I look forward to seeing OMs at our events during the year – including our most recent members, the Class of 2020. The challenges of 2020 have made us all appreciate the opportunity to get together in 2021.
Andrew Tulloch (OM 1986)
President of the Old Melburnians