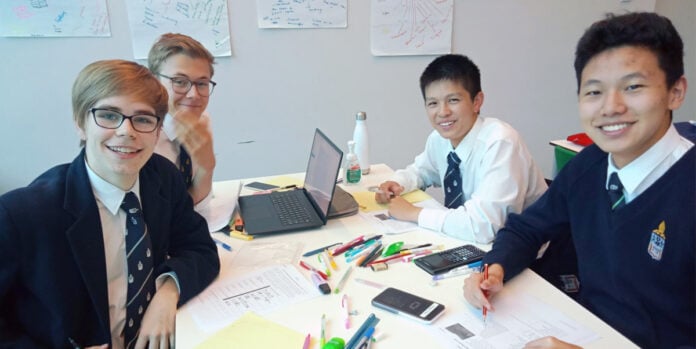 A team of four students from Melbourne Grammar School has won the championship at the Australian Computational Linguistics Olympiad (OzCLO). They will now go on to represent Australia at the International Linguistics Olympiad, to be held (on-line) in Latvia in July.
The team consists of Year 12 students, pictured above (from left) Will Metzke, William Flintoft, Angus Cha and Kelvin Cao who went through two rounds of competition, using skills of linguistics and algorithmic knowledge to solve fiendishly complex problems in languages as diverse as the Aboriginal language Waanyi, native American Algonquin, and the Gaelic writing system used on Ogham stones.
When the team was informed of their national success on 1 April 2021, Angus Cha initially refused to believe it: "This is an April Fool's joke, isn't it?" he said.
But the results were true. To win, the team beat 440 other teams, from all around the country.
And they weren't the only team from Melbourne Grammar to enjoy success. Another team consisting of Year 11 students Roddy Dong, Gordon Wu, Kavika Palletenne and Daniel Bian achieved Silver, and a Year 10 team of Jaden Taveira, Jacob Ng, Michael Jiang and Thomas Lin achieved Bronze.
In all, 45 boys from Melbourne Grammar School competed in the initial round of competition – the most ever. Dr Martin Ball, who coached the teams, was full of praise for the students and their achievements.
"It's terrific to see students so keen to challenge their minds and learn new ways of thinking," he said. "They put in a lot of out of hours training, and have been well rewarded."
"We wish the champion team every success at the international competition," he added.
The winning team have only one regret. "We wanted to go to Latvia!" bemoaned Kelvin Cao. Well, their minds will go there.