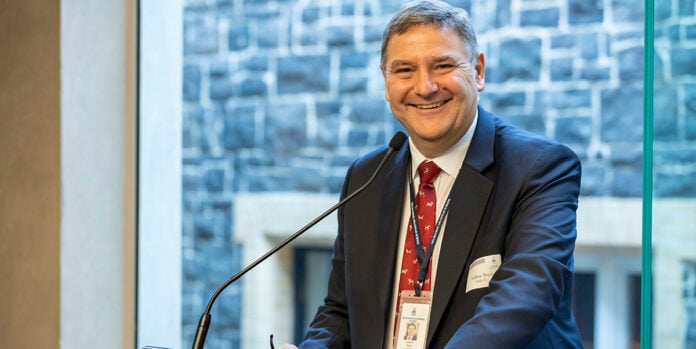 After 23 years of exceptional service at executive level, Andrew Boyd retires from Melbourne Grammar School at the end of Term I. His career has been characterised by a commitment to living by our School values on a daily basis. Andrew has been dedicated to the School and its betterment, while being fully inclusive in his approach.
As Head of Grimwade House from 1998-2015, Andrew oversaw an extraordinary program of building improvements, along with a complete overhaul of the curriculum, the introduction of laptops and iPads to classrooms, ongoing efforts in professional development and work to increase the number of girls enrolled. Leading a primary school is an all-consuming task in itself, but alongside these projects Andrew also played a key role in the Independent Primary School Heads of Australia —an organisation valued by educators nationwide.
For the past five years, Andrew has continued to display this admirable work ethic as Director of Advancement and Admissions. His ability to think broadly, plan strategically, and recruit the best people have all been instrumental in the work of the Lodge.
Of course, Andrew has continued to go above and beyond, contributing to the Melbourne Grammar School Foundation, the IT Steering Committee, committees for the School Sesquicentenary and Grimwade House Centenary, and numerous School Council committees.
It is impossible to overstate the importance of interpersonal relationships at a school such as ours. Andrew clearly sees the significance of each person's contribution, whether they are a new staff member or someone with a lifelong connection to our community. He also has the rare ability to help others see a situation from a new perspective through humour and a genuine, down-to-earth approach.
Andrew always maintains a broader perspective, making decisions that reflect the needs of the School as a whole. He has brought a depth of knowledge to these decisions that few in his role would have.
I know the support of Andrew's wife, Lynn, has been central to his contribution at Melbourne Grammar. To successfully run one of Australia's biggest independent primary schools, you need a great supporter on your side—and Lynn has been this throughout Andrew's time with us.
Andrew has been someone whose advice and clear thinking I have relied on since early in my career in education. His care, compassion and understanding are always present, no matter the circumstances. He meets each person with a smile and a willingness to problem-solve.
I feel lucky to have worked with Andrew Boyd, and I know the foundation he has built will help our School to thrive for years to come.
Greg Caldwell
Head of Wadhurst