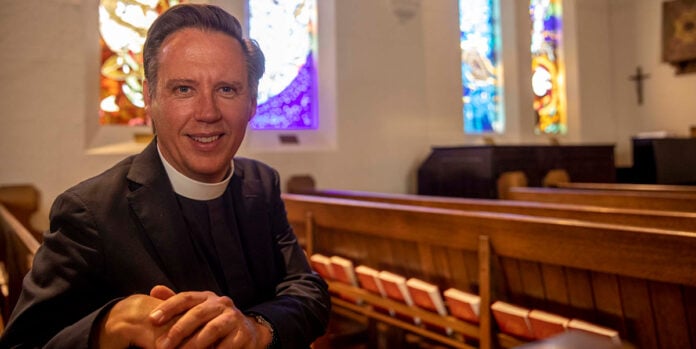 For Rev'd Dr Peter French (OM 1989), faith and spirituality are inseparable from service.
"Our true selves are found in the service of others," says Peter, who is currently Vicar at St John's Church in Toorak. "To work towards something far larger than oneself, for the benefit of others, is the highest calling."
Peter's life in the Anglican Church has taken him from early roles in smaller Australian communities to working with congregations overseas. In 2006, he moved with his wife Robyn to Chicago, where he became Interim Rector for an African-American congregation on the city's south side, then Associate Rector of Grace Church, a 700-member church in the city's west.
"Race was front and centre in the lead-up to President Obama's election," Peter explains. "I found deep divisions between communities in Chicago, but the solidarity within the Anglican faith meant I also found a great sense of connection and family."
In 2008, Peter took on the challenging role of Chaplain at Princeton University's Episcopal Church. "That was the one that woke me up at 3am on many nights, because Princeton is such an august institution operating at the highest intellectual standards," he says.
Peter went on to become Co-Director of Princeton's Program on Religion, Diplomacy and International Relations and Founding Director of the University's Christian-Muslim Dialogue. He was also engaged in allyship work with the LGBTQ community—work he sees as integral to the Anglican faith.
"If I can show the face of a God that loves us all equally, I will," Peter says. "Without a shadow of a doubt, that path of inclusivity is the one the Anglican Church should continue on."
While in the US, Peter completed his PhD on the life and work of David Wright OAM (OM 1966), the internationally renowned stained-glass artist whose windows adorn Grimwade House's Chapel of St Andrew.
"I kept coming across David's work and realised no one had written anything substantial on it," Peter says of the PhD, which has since been transformed into a book. "I wanted to understand how Australian artists were portraying images of God after WWII, and how those images were presented differently in places like hospitals, prisons and schools."
Peter's advice to our current and former Melbourne Grammar students is straightforward: "We have been given so much, either by our parents, our predecessors or those who gave us scholarships, and we have an abiding obligation to give back," he says.
"The gifts we've been given through our schooling are rare," Peter emphasises. "Your education is not only yours—it's yours in the service of humanity."