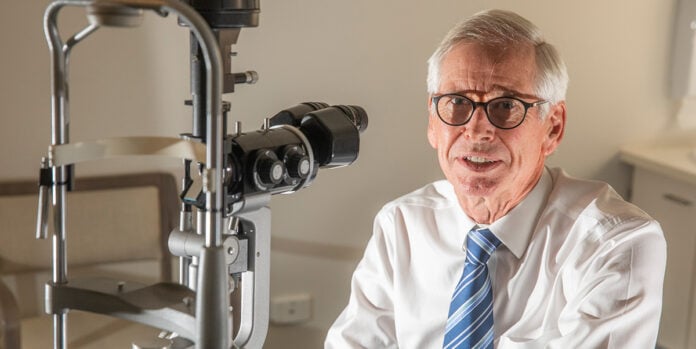 Sometimes seemingly small actions have a great impact on our lives. In the case of Dr Richard Stawell AM FRANZCO FRACS (OM 1967), his exemplary career as a specialist ophthalmologist began unexpectedly.
"My first rotation during the intern year of my medical degree was at Wangaratta District Base Hospital," Richard explains. "This was the year before seatbelt wearing was compulsory, so there were patients coming in with significant eye injuries after accidents on the Hume Highway."
"The Hospital's ophthalmologist was recovering from an illness and needed help," Richard says. "He offered to show me some basic microsurgery techniques. In the first few months of my intern year, I ended up doing primary eye repairs. This set my future direction."
After that formative experience, Richard consolidated his expertise through additional study and training, including overseas fellowships.
"Ophthalmology, for me, has been really interesting. It's a mixture of medicine, microsurgery, and ocular plastic surgery (treatment of tear duct and eyelid conditions, and dealing with trauma situations)," Richard says. "As my career progressed, I developed an increasing focus on researching and treating complex inflammatory eye diseases. I found this area to be particularly fascinating."
In 1992 Richard was asked to establish an inflammatory / infectious eye diseases clinic at the Royal Victorian Eye and Ear Hospital. "The Ocular Immunology Clinic brought staff together who had built up expertise in a variety of relevant specialist areas, enabling us to assist patients with extremely complex cases and to carry out associated research," Richard explains. He ultimately served as Director of the Ocular Immunology Clinic, while also maintaining his surgical practice, until 2017. He still enjoys some involvement in the clinic and its research activities as well as part time private practice.
Richard's leadership in ophthalmology extends to being an active member of The Royal Australian and New Zealand College of Ophthalmologists (RANZCO) from 1985, culminating in serving as President during 2009-2011. He was involved with the Ophthalmic Research Institute of Australia (ORIA) from 1990 and was Board Chair from 1998-2005.
Alongside these accomplishments, Richard's work has taken him well beyond our borders to build capacity in other communities.
"Between 1989-1996 I worked in the Pacific Islands in places like Vanuatu, Kiribati, Tuvalu and the Solomon Islands where they had no ophthalmology services and no treatment for conditions like cataracts," Dr Stawell says. "We worked within challenging constraints, but we had a good team around us, and the people were incredibly welcoming and grateful."
In recent years Dr Stawell has once again been drawn to an overseas role, this time working with international development education program Life Line Express in China, which offers training in the management of complex inflammatory eye disease to ophthalmologists in regional areas.
In addition to being awarded a Member of the Order of Australia through the 2021 Australia Day Honours 'for significant service to ophthalmology, to research, and to professional bodies', Richard received the RANZCO College Medal in 2018 and the prestigious Board Chair's Medal at the Eye and Ear Hospital in 2014.
When reflecting on the many threads of his career Richard says: "I don't like to sit still. I like to be occupied doing something challenging. I like to take on new things. This has made my life interesting and given me much enjoyment and fulfillment."
And, to some extent, the scene was set for Richard through a singular experience at Melbourne Grammar School: expeditions with the School Scouts troop. "I think the Scouts had a major impact on me in developing leadership skills, physical and mental toughness, and determination," says Richard. "Something like that really pushes your boundaries. We had so much independence. It was such a supportive group of people and we're still connected today."