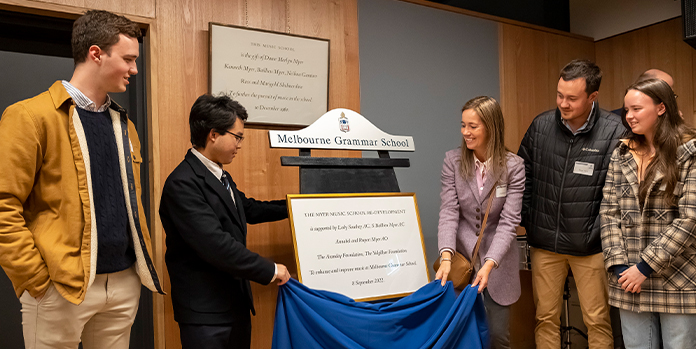 "The generosity of the Myer Family was critical to the opening of the original Myer Music School in 1960. The decades since have seen that relationship grow and, today, we are grateful to again have the support of the Myer, Shelmerdine, Baillieu and Southey families as we embark upon a new era in music teaching and performance at Melbourne Grammar School," said Headmaster Philip Grutzner at the official opening of the refurbished Myer Music School on 8 September 2022.
Annabel Myer, representing the Aranday Foundation, together with younger members of the extended Myer family, unveiled new signage commemorating the opening. This was specifically designed to replicate the 1960 opening marker.
Guests were treated to several musical performances during the event including a special rendition of the School song sung in Latin as it floated down from students hidden in the overhead walkway.
Director of Music, Philip Carmody, enthralled guests with charming anecdotes about the building including challenging them to identify the room they believed would be most associated with spectral activity. "At least three of the previous residents of 3 Bromby Street (which is now incorporated into the Music School) have independently claimed there was a haunted room in that building. Where do you think it would be?"
The 2021 redevelopment of the Myer Music School built on the bones of the original building as well as the residence next door to the create outstanding new music facilities which include two performance areas, digital recording studios, extra studios and practice rooms.
Designed by Peter Elliot Architecture + Urban Design, the building is the recipient of several architectural awards including the 2022 Award for Educational Architecture given by the Australian Institute of Architects.
"What the re-developed Myer Music School represents is faith in the ability of music to provide comfort, meaning, collaboration and a reason to excel," said the Headmaster. "These are the values that underpin our educational mission and I believe are in lockstep with those of the Myer Family."
"The Myer Music School is a story of adaptation and evolution," he added. "Melbourne Grammar has benefitted from more than 60 years of Myer investment in music. We are not alone in that debt and are always mindful of the need to contribute back to the wider community, in line with the aims of so many Myer Family projects."