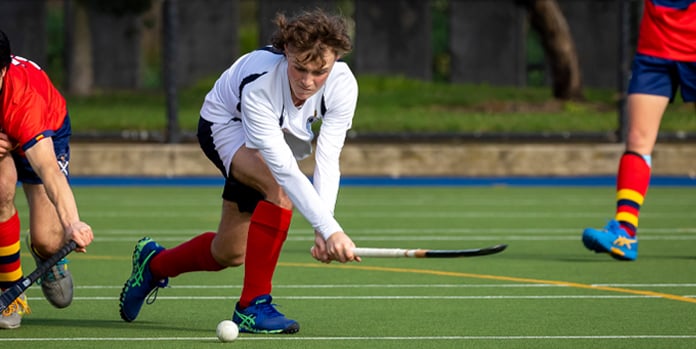 Year 11 student, Ollie Will, has achieved something unique.
As a member of both the First XI cricket and hockey teams in 2022, we believe he is the only Melbourne Grammar student who has ever been a member of two undefeated premiership First teams in the same year.
In addition to his success on the Melbourne Grammar hockey field, Ollie was also a member of the victorious APS representative team this year. In addition, he played in both the Under 18 and Under 21 Victorian hockey teams, who placed fourth and second respectively in their national championships.
Based on his performance at the U18 championships, Ollie was invited to join the Hockey Australia Future Talent Squad which recognises future Hockeyroo prospects. His national identification also provided him a scholarship to the Victorian Institute of Sport and he now trains regularly with them.
"Ollie has achieved what few others have at his age, playing in both the Under 18 and Under 21 sides for Victoria in the same year which, in my time as Head of Hockey, is unheard of," says David Aitken. "His ability to change the result of a match is quite special and I know the other boys walk taller when Ollie is on their side."
"Ollie is also a very capable cricketer, excelling both as a batsman and as a wicketkeeper," says First XI cricket team manager, Tim Morris. "He was first selected in the First XI in Year 9, and he has been an integral part of the team in 2021 and 2022, amassing 417 runs across the two seasons. When not required for wicketkeeping duties, he is also an outstanding fieldsman."
"I have played both sports for as long as I can remember," says Ollie. "The thing that I have learnt that has helped me the most is that you have to have fun. If you want to improve, you have to put in the work, so you have to enjoy it."
"When you walk out onto the ground, particularly at a big game like the U21 hockey gold medal match, there are certainly some nerves around," he adds. "What I try to do is simplify things as much as possible and just focus on one thing at a time."
And Ollie has an eye on the bigger picture, saying: "My ambition is to play hockey for Australia at either or both the 2028 and 2032 Olympic Games."
Are we correct?
We have searched our records thoroughly but, if you are aware of another Melbourne Grammar student who has been a member of two undefeated First teams in the same year, please let us know.
+61 3 9865 7555