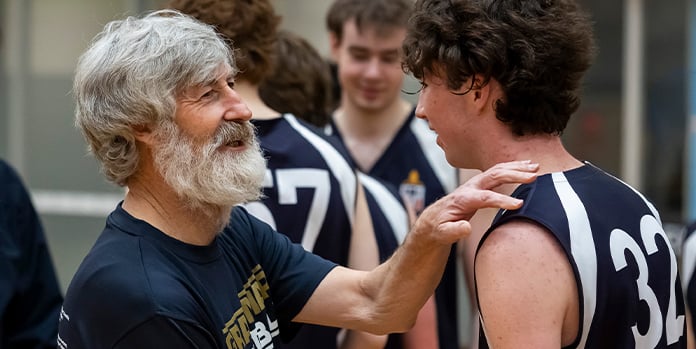 With extreme modesty, Rod McLeod describes his 35 years of work with Melbourne Grammar's Senior School basketball teams as "just part of the job". In reality, his contribution has been immeasurable.
"I suppose I'm an old-fashioned teacher who just puts his head down and does it," Rod says. "I do it for the sake of the boys in the sporting program, to make sure they keep getting the most out of it and enjoying it."
Making space for students to do their best
When he retires at the end of this year, Rod will have worked with hundreds of students on the basketball court, thousands in his Mathematics classroom (in some cases, he has taught two generations of the same Melbourne Grammar family) and accompanied many others on LGR and other Outdoor Education camps.
"It's the interactions with the students, in and outside the classroom, that keeps me engaged," he says. "You get to see some awesome things happen on the basketball court, and to share in the kids' excitement. Taking them on tour to places like Adelaide and over to America, I get to know them all pretty well."
"I hope I'm remembered for being supportive of all the boys, no matter which team they're playing in," he says. "I've also really appreciated the support of all the parents through their Swish Club involvement, as well as my many great coaches and managers."
Building a new sporting history
Having had an unbroken association with basketball since his first year at our School, Rod has put in countless hours of effort to continually building the program.
"Early on, we needed to lift the abilities of the teams, so I found ways for us to be involved in summer competitions, which meant we could train year-round," he says. "At one stage, I was even supervising extra training sessions on Sundays in the gym."
Significant parts of the program of which Rod is especially proud of are:
the annual David Bland Memorial Match established in 2006 in memory of David Bland (OM 2009) between Year 8 and Year 9 students.
#15 singlet reserved and awarded to First Nations players in the basketball program in memory of Josh Hardy (OM 2011), a First Nations player in the First V team for from 2009 until 2011.
finishing second in the APS Winter Competition three times including this year.
While he is looking towards retirement, Rod will likely continue to be a presence at Melbourne Grammar games for a while yet. "My son, Alex McLeod (OM 2016), will still be coaching the firsts, so I imagine I'll be there watching a few games," he says with a smile.
In recognition of Rod's legacy to our basketball program, the Rod McLeod Award was established this year. It will be awarded to the player who has shown dedication, commitment and integrity to the basketball program over his four years at the Senior School. The inaugural recipient was Year 12 student, Alex Barr.
A few highlights of basketball at Melbourne Grammar
1988: Rod McLeod begins his involvement with Melbourne Grammar's basketball program
1991: First year of APS Winter Basketball competition played
2001: Rod McLeod becomes Teacher in Charge of Basketball
2010: First interstate basketball trip (to Adelaide)
2010: First overseas basketball trip (to Hawaii)