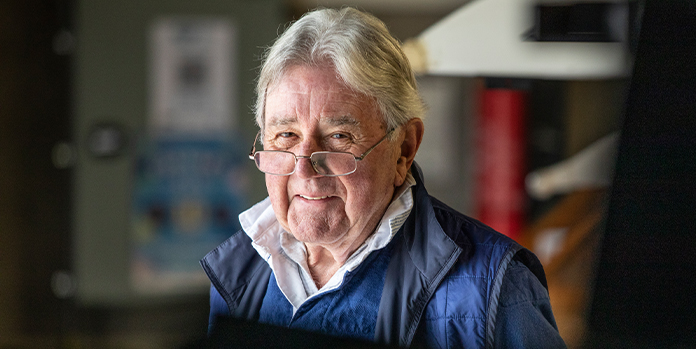 In 1956, on something of a whim, Tony Walker took himself to the Mercantile Rowing Club and asked to join up. Today, he can reflect on a lifetime connected to the sport, decades of service to our rowing program, and the experience of Olympic competition.
"I still look out from my balcony on Spring Street and see the rowers on the river," says Tony, aged 82, who retired from his role managing the Melbourne Grammar' Simon Fraser Memorial Boat House in July after more than 30 years in the role. "It'll be part of my life forever."
A witness to history
The day that sparked Tony's love of rowing coincided with a stunning moment in Australia's sporting history. On 11 March 1956, he happened to be at Olympic Park when runner John Landy interrupted his mile championship race to check on Ron Clarke, who had fallen in front of him. After witnessing this moment, Tony and his school friends – all keen footballers – headed for the Yarra River. And that was to change Tony's life forever.
"There was a huge crowd on the river following a rowing race. I had never seen one before and I thought that was wonderful," he says. "I decided I wanted to try it. If I'd been three minutes earlier or later, I wouldn't have seen that race, and I would've pursued footy as a sport with my mates instead of rowing."
Eight short years later, Tony was a member of the Men's Coxless Four national championship crew.. He went on to compete at the 1964 Tokyo Olympic Games in the same event.
"I knew nothing about rowing when I entered the rowing club in 1956, so it was sheer luck that I ended up part of the most powerful clubs in Australia and training with an Olympic coach," he says. "It was the most marvellous time in my life."
Protecting our rowing history
Tony began his connection with Melbourne Grammar in 1992, after a career as a teacher and primary school leader.
"Managing the Boat Shed involved everything from care of equipment to providing a safe environment for the boys when they came to train," Tony explains. "I was the first person in the role who had a rowing background, so I was also able to assist in coaching beginners, which was fabulous."
Over 30 years, Tony has seen generations of rowers come through the Boat Shed, including a number of fellow Olympic athletes such as Karsten Forsterling (OM 1997) and David Crawshay (1997), among others.
At every level of competition, he understands the particular commitment rowers make to their sport.
"Rowing is hard – you train for months with early starts, not knowing whether you'll even end up in a crew," he says. "The boys that stick it out, along with their parents, know it's something special they've done in their lives."
Tony retires with the Wally Watson Memorial Medal, awarded by the Melburnia Club for distinguished service to our Boat Club in 2001. Looking back, he shares his sense of gratitude for his years on the Yarra.
"I'd like to thank the School," he says. "I'd do it all again tomorrow, and I'd do it for nothing."