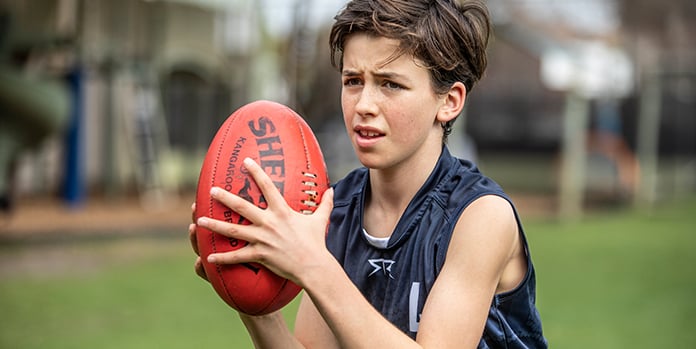 Grimwade House Co-Captain Louis Hooper has been playing football since he could walk. Now that he's in Year 6, his passion for the game has led him to an exciting new role: Captain of the School Sport Victoria U12 State Australian Football team for 2022.
"When we found out I was in the team my whole family went crazy," Louis says. "I didn't know I was going to be Captain until just before the first game."
The team finished a credible third in the School Sport Australian Football National Championships played in Adelaide in August 2022.
"Running out with the team for the first time was really special," Louis says. "I'd never dreamed of something like that. It's an amazing feeling with so many people watching."
First steps toward AFL leadership
The selection process for School Sport Victoria teams is a tough one, with around 800 students playing numerous rounds of practice games, observed by experienced selectors. According to Louis's coach, Leigh McQuillen, he quickly emerged as the clear choice for the Captaincy.
"Louis was a standout throughout the trials, not only for his playing ability but also for his leadership qualities," Mr McQuillen says. "He went on to be a key member of our team at the national championships and, not only led the team with professionalism and class, but was also one of our top performers throughout the tournament."
Louis joins the ranks of a number of AFL champions who had their start in this role. Having received the prestigious Cameron Baird Medal, he wore the number 4 jersey in recognition of his role.
"I've always loved footy and wanted to be an AFL player, but now I know I have a chance," Louis adds. "I've grown so much from it already, mentally as well as physically."
Like any good leader, Louis always has his team in mind when thinking about how far he's come. "I'd like to thank my coach, who knows footy inside out, and all my teammates," he says. "They listened not just to me but to our whole leadership group, and they all played so hard."
What it means to be a leader
In typical Grimwade House style, Louis describes leadership as a role anyone has the capacity to take on, if they put their mind to it.
"We have service teams in Year 6 that everyone's a part of, so that makes us all leaders in a way," he explains.
"What makes a good leader isn't telling other people what to do, it's more about integrity and doing the right thing at the right time," Louis adds. "It's about encouraging people and using your voice appropriately' not just on the footy field but in the classroom as well."
A third-generation Melbourne Grammar student, Louis is excited about his next step: heading to Wadhurst. "It's going to be so good," he says. "As a Grimwade House Co-Captain, I spoke at the ANZAC Day service at the South Yarra campus, and it was amazing. I'm ready for a new space."